Quilt No.768PHM - Powerhouse Museum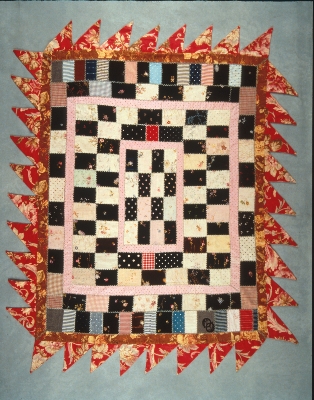 Description:
"A medallion style, handpieced cot quilt with dark and light checkerboard patterning of rectangular cotton printed fabrics, probably taken from a fabric sample book. Two frames of pink cotton strips printed with navy blue polka dots outline the central block and separate the outer rows of patches. The quilt is edged with narrow strips of brown floral cretonne and dramatic triangular 'flames' of red floral cretonne attached all around. The seams joining the patches are oversewn with blue featherstitch embroidery, and the quilt is backed with printed cotton." [PHM] There is no padding.
1480...
History:
"The maker is unknown but is probably a woman from northern Lancashire. She was about 80 when she made the quilt and gave it to Annie Dixon, who lived in the same area, sometime before 1920. This was said to be her last quilt." [PHM] When Annie died her niece Margaret Juckes inherited the chest and its contents, which were sent to Australia in 1960. The Powerhouse Museum bought the quilt in 1989.
Story:
"The quilt was once owned by Annie Elizabeth Dixon, who was born in 1880 and died in 1959/60. She spent her early years at Aynsome Farm (or Mill) near Cartnel in Northern Lancashire, then moved to nearby Kent's Bank. Annie migrated to Canada in 1920, leaving the quilt in England in a chest of things belonging to her. When Annie died her neice Margaret Juckes inherited the chest and its contents, which were sent to Australia in 1960��.." [PHM]
Related Quilts:

Cotton frame quilt with a diamond in the centre of the frame and a border of straight pieces. The outer border is diamonds. The quilt is hand sewn and hand quilted.
1910 x 1830mm
Cotton scrap quilt with shapes of squares and diamonds and strips. There is no padding and the backing is calico.
2125 x 1440mm

Cotton quilt, machine sewn and hand quilted. Pattern similar to Double Irish Chain. The background is white and the small squares mainly patterned in pinks, blues, lilacs and greens. The backing is plain white cotton and the padding, which is lumpy, could be some type of cotton.
2057 x 1220mm

Patchwork quilt in crazy pattern, with pieces of silks, corded silks and velvets in prints, plaids and plains. Nearly all pieces are edged with embroidery, and many pieces have embroidered names and motifs. There are a variety of embroidery stitches. The backing is of slub cotton in a plaid pattern in yellow, grey, red and white. No padding. Quilt has a gathered edging of dark red organdy and silk. Names and dates embroidered are: Bert, Milly, Toots, Verdi, Ida, and 1893, 1895, 1894.
1550 x 1420mm

Log cabin quilt consisting of 36 blocks each 200mm square. Light and dark arrangement with a variety of small patterned cotton materials (floral, spotted, striped) and plains. The blocks are hand stitched on to fine cotton and then joined by machine. There is a 120mm double gathered frill of floral cotton with a beige background. The backing is 2 pieces of cream cotton with repeat floral and musical motifs interspersed with forget me nots.
1500 x 1500mm

Patchwork quilt made for a child. All cotton with cotton padding. White blocks have embroidery depicting different nursery rhymes eg Mary, Mary, Quite Contrary ; Old Mother Goose. These blocks are separated by rectangular strips of teal cotton. The quilt is hand stitched and heavily quilted.
1677 x 1271mm