Quilt No.792LC - Lyn Cottingham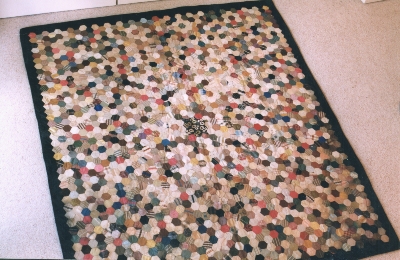 Description:
Single bed quilt hand pieced from silk hexagons using the English method. The border, backing and central rosette of hexagons are black. All other hexagons are a mixture of plain colours, stripes and florals. They are randomly placed. It is quilted in a diamond pattern. The padding is a thin cotton woven material.
1550 x 1330mm
History:
The quilt was made by Mary-Anne Vincent who was born in Stepney London in 1856. Mary-Anne was the great great aunt of the present owner, Lyn Cottingham. The quilt was handed on through family descent. It is not used now.
Story:
"Because of the age of the quilt little knowledge is available about its actual use. However, we know that Mary-Anne was one of 6 children and never married. She lived in London and Brighton and did not enjoy good health. I have 3 postcards written by her in 1902 - 1907 relating to her poor health, one of which was sent from a convalescent home in Brighton. The P.C's were sent to her neice Louisa (my grandmother) who was apprenticed to a dressmaker. We have many pieces of Louisa's needlework, samplers, embroidery and tapestries etc."����..
[Lyn Cottingham]
Related Quilts:

Single bed quilt made up entirely of hexagons in 'Granny's Flower Garden' pattern. The rosettes are made up of 8 hexagons and a central one. Native flower prints, including wattle, on a white background. Plain hexagons in white, yellow and blue form a scalloped border. Hexagons are hand stitched and the 2 layers are quilted in running stitch. The backing is a pieced sheet.
2400 x 1500mm

Hand pieced patchwork quilt with 10 diamonds consisting of hexagons with white and black rows as edging. Materials include furnishing and dress materials and a type of linen. It is not quilted or tied. The backing is a small floral print in flannelette.
2180 x 1830mm

Hand pieced hexagon quilt or table cover with centre motif of hexagons within hexagons. The remainder of the quilt is mainly hexagon rosettes. The materials are silks and brocades and it is pieced over papers in the English tradition.
1710 x 1600mm

Quilt with alternate red and white diamonds in cotton, with wide border of white cotton and a white cotton crochet edging. All diamond patches and edging were joined to white border decorated with feather stitch. White border edged with zig-zag white feather stitch. Centre rectangle of white has 4 red petals edged with white feather stitch and 4 red diamonds each embroidered in white clockwise: '1898', 'R', 'L', 'K'. Diamonds edged with feather stitch. There is no padding and the backing is white cotton.
2420 x 1740mm

Patchwork top made in the Log Cabin pattern in cotton fabrics, 10 x 10 squares. Hand sewn. Most fabrics are patterned, colours in darks and lights include blues, red and pink, greys, browns. The wide border is made from 3 rows of blunt ended triangles (tumbler), the edge is bound with a narrow strip of patterned grey and white fabric. Each corner of the border has 3 chequered squares set on the diagonal. Hand sewn, the binding is machine sewn. No padding or backing.
2360 x 2340mm

Patchwork quilt made from hexagon patches on one side, and squares and rectangles on the reverse. Cottons are used, mostly from dressmaking, in bright and light colours. The hexagons form an indented edge on all sides; on the back the rectangles have been cut at the edge to match the hexagon shapes. Hand sewn, the edge machine sewn.
No padding.
1551 x 1373mm