Quilt No.802MP - Maria Politis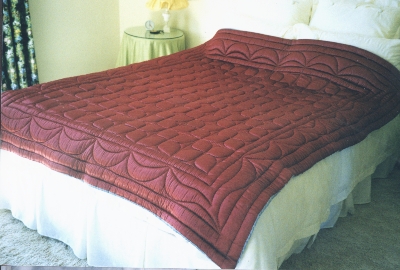 Description:
Wholecloth quilt made of deep cherry red satin with backing of sky blue satin. The padding is cotton wadding. It is hand quilted and the pattern is an all over one of four leafed clovers with a border of crescent shapes within straight parallel lines.
2000 x 1700mm
History:
The quilt was made on the Greek island of Lefkada in 1965 by a quiltmaker whose name is not known. It was ordered by Evangelea Politis as a gift for her daughter-in-law in Australia. It is not used now.
Story:
"Maria's Paploma
This lovely satin quilt originated in Lefkada, one of the beautiful Ionian islands on the western side of Greece. In 1965, Evangelea Politis, had it specially made as a gift for her daughter-in-law Maria, in faraway Australia.
Almost directly in line with Lefkada, on the eastern side of Greece, is the island of Mytilini (Lesvos) and the village of Aghia Paraskevi, which Maria Politis left in 1960, to join her brother Andoni who had come to Australia three years earlier. There were five children in Maria's family, growing up during the 'pinna' (hunger or famine), the time of the WW2 German occupation. These were times of great hardship and starvation, and families all over Greece were struggling to survive. Maria's father, Costas Mimelli, planted tobacco, a longtime staple crop in Greece. Maria remembers, as a nine-year old, working in the fields with her sister Eleni. She worked with her father for many years before migrating to Australia.
Maria met and married her husband Aleko in Broken Hill, NSW, where they had several good friends who had also come from Mytilini. After a few years they moved to Canberra where they worked hard and gave their children Theodoros and Raylene, a good education. Maria, a widow now for many years is grateful for her supportive, close-knit family. Her 'paploma', still in its original, excellent, condition remains as a symbol of a life interwoven with sadness as well as happiness."
[Written by Lula Saunders: adapted from interview 10.1.01 for the National Quilt Register]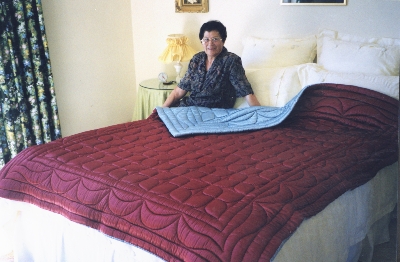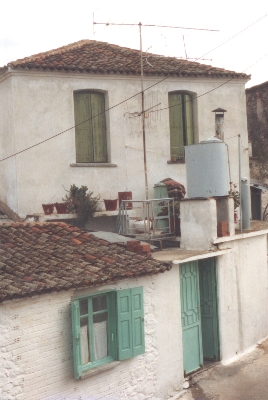 Related Quilts:

Wholecloth pram quilt with a top of pink cotton sateen, and the reverse is a more finely woven, ivory, fabric. All over quilting design as main feature, with stylised hearts, leaves and cross hatching. The padding is cotton batting. 870 x 660 mm.

Hand stitched, cotton, appliquéd, quilt in a flower pattern on a plain background. Colours are shades of green, apricot and browns. This quilt was known as a 'Bride's Quilt'. Padding is thought to be layers of white fabric raised almost like a wadding. The backing is cotton material. 2470 x 2020 mm.

Wholecloth quilt with white cotton centre, sky blue cotton border and dark blue binding. There are 9 repeat designs of cross stitched flowers and leaves in the centre section. Around the blue border there are 18 cross stitched flowers. Blue on blue and white on white cotton quilting of diagonal lines and curls pattern the quilt. The backing is white cotton and there is a very light padding.
2338 x1981mm

"This all white quilt has a front face of fine white plain weave cotton. The quilt is lined with brushed cotton twill. The two layers are quilted with white cotton thread across the entire surface with rows of zigzag stitching 16-20mm apart.
The edges of the quilt have been cut to form scallops and the raw edges here are secured with a binding of fabric similar to that used on the front face of the quilt. All work on the quilt appears to be hand sewn." [NGA] The quilt is not padded. 2655 x 2150mm

Wholecloth quilt of fine cream homespun embroidered with red and white stranded cotton. It is a cross stitch design of roses pre stamped on the material. The quilting consists of a fern pattern medallion in the centre, straight lines and a fern pattern border. The padding is fine wadding and the backing is white sheeting with a small floral pattern,
2160 x 1650mm

Patchwork quilt made for a child. All cotton with cotton padding. White blocks have embroidery depicting different nursery rhymes eg Mary, Mary, Quite Contrary ; Old Mother Goose. These blocks are separated by rectangular strips of teal cotton. The quilt is hand stitched and heavily quilted.
1677 x 1271mm