Quilt No.1GM - Gilgandra Historical Society
Owner:
Gilgandra Historical Society
Description:
Wholecloth quilt of natural coloured cotton material. Two thousand two hundred and twenty six names have been embroidered on the top in red stranded cotton. The backing is red and white cotton material.
2033 x 1474mm
History:
The quilt was started by Mrs. Clara Ward in 1937 and finished in 1939. She embroidered all the signatures. It was made to raise money for the Hospital Auxiliary in Gilgandra. The quilt passed to Mrs. Ward's daughter, Clarice Scholtz and then to the Gilgandra Historical Society. It is sometimes displayed at the Gilgandra Museum.
Story:
The signatures on this fund raising quilt were all embroidered by Mrs. Clara Ward of "Wait-a-While" Biddon NSW. Clara Ward was born Clara Blackert at Nash's Flat near Mudgee in 1883. In 1913 she and her husband Percy moved to Biddon. They had 3 children: Allan, Frank and Clarice. Frank died at the age of 5 from diphtheria.
"The quilt was started in 1937 by 'Wardie' as she was affectionately known, the money raised at sixpence a name was solely to help raise funds to go towards the building of a new hospital. She embroidered the names whilst a patient at either 'Chinnock' Private hospital or the Gilgandra District Hospital or at her home in Biddon.
An article printed in the Gilgandra Weekly dated Thursday 8 June 1939 stated Mrs. Ward has completed the working of her quilt, at that stage there were 1,700 names, raising forty two pounds ten shillings. But as people still asked to have their names added to the quilt she recommenced work on the quilt and was still adding names up until the time of her death on the 31st. December 1950, she still charged sixpence but if anyone wanted their names found she charged one shilling. T he task of finding these names was done by her grandaughter Pat Lummis (nee Scholz) who was later to have the last baby born in the old hospital and with her new daughter Lyn were the first patients in the new hospital which was officially opened on the 10th February 1956, Lyn being born on the 12th February. Mother and daughter being transferred by ambulance to the new hospital on the 14th."
[Joyce Wise, Gilgandra Museum]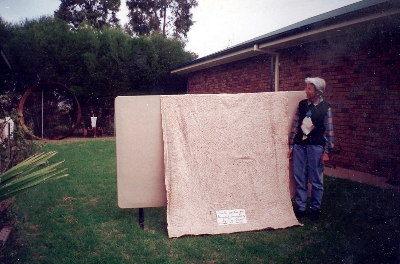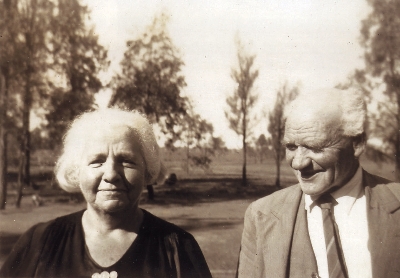 Related Quilts:

Wholecloth pram quilt with a top of pink cotton sateen, and the reverse is a more finely woven, ivory, fabric. All over quilting design as main feature, with stylised hearts, leaves and cross hatching. The padding is cotton batting. 870 x 660 mm.

Hand stitched, cotton, appliquéd, quilt in a flower pattern on a plain background. Colours are shades of green, apricot and browns. This quilt was known as a 'Bride's Quilt'. Padding is thought to be layers of white fabric raised almost like a wadding. The backing is cotton material. 2470 x 2020 mm.

Wholecloth Durham quilt of white cotton sateen front and backing. Handsewn. Padding is wool. Quilting patterns include a centre of 8 petalled flower within a double circle with radiating palmettes on a cross hatched background and borders of leaves and branches.
2330 x 19400mm

The quilt top is of rose-pink satin and the backing is a lighter pink cotton. The quilting pattern is a large central 'wheel' motif repeated from each corner like a fan. The centre 'wheel' is surrounded by a single feathered wreath and diamond fill pattern. Hand quilted. The padding is cotton wadding from cotton grown on Lesvos island.
2000 x 1600mm

Wholecloth quilt made of red floral crinoline cotton material. Quilting is in vertical rows, alternating cables with orange peel patterns. Padding is of cotton flock. Backing is of white cotton. Quilt is edged with a self fabric ruffle on three sides. Hand sewn.
2236 x 2236mm
" A coverlet of 7 pieces of cream muslin. The edges of the work are secured at the top and sides with bands of green and floral strips. The lower edge has been turned and hemmed. The 'quilt' is highly decorated with bands and diamonds of appliqué fabric. The upper centre field is appliquéd with images depicting Adam and Eve in the Garden of Eden surrounded by trees and a variety of animals and insects. In the centre is a smaller appliquéd image of the manger with mangel and cows. The quilt is not signed or dated, but each of the imaged areas is accompanied by a descriptive text. The writing is executed in black chain stitch. Beads and sequins have been used to depict the eyes of some of the animals in the Garden of Eden. As with all of Mary Jane Hannaford's quilts all work is hand sewn and quite crude and coarse in execution. The quilt is not padded or lined." [NGA] 1810 x 1590mm