Quilt No.1GM - Gilgandra Historical Society
Owner:
Gilgandra Historical Society
Description:
Wholecloth quilt of natural coloured cotton material. Two thousand two hundred and twenty six names have been embroidered on the top in red stranded cotton. The backing is red and white cotton material.
2033 x 1474mm
History:
The quilt was started by Mrs. Clara Ward in 1937 and finished in 1939. She embroidered all the signatures. It was made to raise money for the Hospital Auxiliary in Gilgandra. The quilt passed to Mrs. Ward's daughter, Clarice Scholtz and then to the Gilgandra Historical Society. It is sometimes displayed at the Gilgandra Museum.
Story:
The signatures on this fund raising quilt were all embroidered by Mrs. Clara Ward of "Wait-a-While" Biddon NSW. Clara Ward was born Clara Blackert at Nash's Flat near Mudgee in 1883. In 1913 she and her husband Percy moved to Biddon. They had 3 children: Allan, Frank and Clarice. Frank died at the age of 5 from diphtheria.
"The quilt was started in 1937 by 'Wardie' as she was affectionately known, the money raised at sixpence a name was solely to help raise funds to go towards the building of a new hospital. She embroidered the names whilst a patient at either 'Chinnock' Private hospital or the Gilgandra District Hospital or at her home in Biddon.
An article printed in the Gilgandra Weekly dated Thursday 8 June 1939 stated Mrs. Ward has completed the working of her quilt, at that stage there were 1,700 names, raising forty two pounds ten shillings. But as people still asked to have their names added to the quilt she recommenced work on the quilt and was still adding names up until the time of her death on the 31st. December 1950, she still charged sixpence but if anyone wanted their names found she charged one shilling. T he task of finding these names was done by her grandaughter Pat Lummis (nee Scholz) who was later to have the last baby born in the old hospital and with her new daughter Lyn were the first patients in the new hospital which was officially opened on the 10th February 1956, Lyn being born on the 12th February. Mother and daughter being transferred by ambulance to the new hospital on the 14th."
[Joyce Wise, Gilgandra Museum]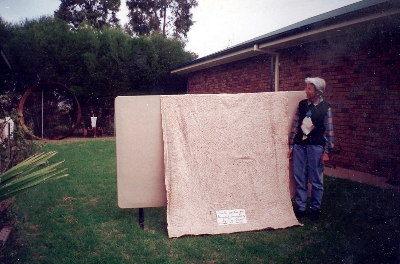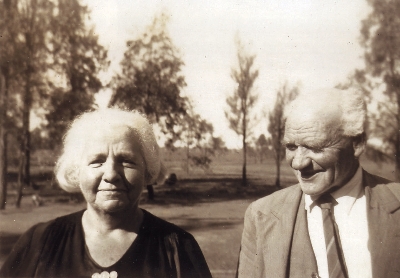 Related Quilts:

Wholecloth pram quilt with a top of pink cotton sateen, and the reverse is a more finely woven, ivory, fabric. All over quilting design as main feature, with stylised hearts, leaves and cross hatching. The padding is cotton batting. 870 x 660 mm.

Hand stitched, cotton, appliquéd, quilt in a flower pattern on a plain background. Colours are shades of green, apricot and browns. This quilt was known as a 'Bride's Quilt'. Padding is thought to be layers of white fabric raised almost like a wadding. The backing is cotton material. 2470 x 2020 mm.

White cotton quilt with blue embroidery. There is a lattice grid embroidered with 30 squares one way and 24 the other and in each square there is an embroidered signature or initial. In one is "The Home Missions Fete 1923" and in the centre "D.A.Cameron, Moderator" the date 1921-22 and 24 signatures within a more heavily embroidered rectangle. There is no padding and the backing is white cotton.
2120 x 1680mm

Wholecloth quilt, yellow sateen both sides. Hand quilted in geometric and curvilinear patterns. Edges turned in, hand finished. Stuffed with flock-like material said by the donor to be wool. Approximately 2.5cm thick.
2500 x 2000mm.

Wholecloth quilt. Top is gold sateen and the backing is gold cotton. Hand quilted in an overall large shell pattern within a border of three parallel lines spaced at 1000, 800, 700mms respectively. The padding is cotton wadding. 2000 x 1800mm

Wholecloth Greek quilt. "The fabric is a beautiful silk satin with a formal pattern of soft yellows and pinks on a turquoise background. Surrounding this is a 40cm wide border also of silk satin (cerise coloured). The quilt is machine pieced but hand quilted. The method of quilting is very interesting. A thick cream twist has been used and at first glance it seems that the quilt is tied as there are long pairs of stitches with gaps of about 4cm between them. However, either a long needle was used to make a pair of stitches OR each side may have been quilted separately with the needle only going half way into the wadding which is about 2 cms thick." [Kereake Wray] The padding is kapok approx 2 cm thick and the backing is deep coral pink satin. 2200 x 1960 mm.