Quilt No.336ER - Elsie Roberts
Description:
Quilt made of white cotton with a diamond set applique pattern of brown tipped pink dogwood blossoms with green leaves in the centre. Hand appliquéd. The centre is hand quilted with cross hatching and the borders are quilted with feathered cables and circular patterns. Padding is Mountain Mist polyester, the backing is of white cotton. The quilt edges are bound with pink bias binding.
2180 x 1860mm
History:
Made by Elsie Roberts about 1963 while living in Box Hill Sth (Vic). It is known as the 'Dogwood' pattern. Owned by Elsie Roberts.
Story:
"This was the second quilt I made. It was a quilt pack imported by George's of Collins St, from Mountain Mist. We were extending our house at the time & I showed the carpenter a photo of a quilt on a large quilting frame and asked him to make me one. The frame is still used occasionally for quilting & displays. The quilt was used for years and washed often. The binding which was supplied was only bias binding & is showing wear. Also the applique has faded."
[Elsie Roberts 1997]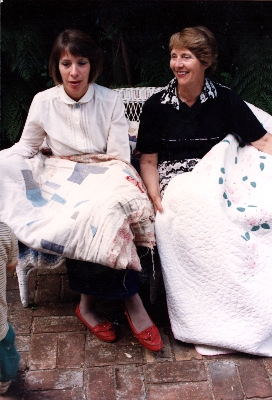 Related Quilts:

Wholecloth pram quilt with a top of pink cotton sateen, and the reverse is a more finely woven, ivory, fabric. All over quilting design as main feature, with stylised hearts, leaves and cross hatching. The padding is cotton batting. 870 x 660 mm.

Hand stitched, cotton, appliquéd, quilt in a flower pattern on a plain background. Colours are shades of green, apricot and browns. This quilt was known as a 'Bride's Quilt'. Padding is thought to be layers of white fabric raised almost like a wadding. The backing is cotton material. 2470 x 2020 mm.

Wholecloth quilt made from blue satin with turquoise blue cotton backing. The padding is cotton wadding. The quilting pattern is a large central motif of a daisy with a fan design in each corner. The in fill pattern is of curved and straight parallel lines and the border straight parallel lines. It is all hand quilted.
2000 x 1660mm

Wholecloth quilt made from turquoise and red plaid brushed cotton, with a filling of a marcella bedspread with cut up pieces of knitted and crocheted garments stitched on top by hand and machine. Garment pieces are pink, red, yellow, black and pastels. Sleeves, collar and pockets can be clearly seen. Backing is an old blanket.

It is a plain white linen double-bed sheet or bed-cover on which have been embroidered (over autographed signatures) the names of members of various associations and clubs, local MPs, visiting dignitaries etc associated with the Berry Agricultural Show of 1906. There are badges and emblems also embroidered in red or pale gold thread including the central Berry Agricultural Society Association motif surrounded by a wreath of lillipilly leaves and berries, a rebus on the name 'Berry'.

This utility quilt/eiderdown has a wholecloth top of faded floral cotton, a frill of the same material and a centre diamond of plain green cotton. The backing is plain green and the padding is kapok.
1753 x 1474mm