Quilt No.812QVM - Queen Victoria Museum and Art Gallery
Owner:
Queen Victoria Museum and Art Gallery
Description:
Quilt has a centre panel of white velvet roses and green leaves with embroidered spider webs, on red velvet. Two side panels are in crazy patchwork in plain and patterned silks and velvets. All patches are edged with feather, herringbone or blanket stitch. Many patches are embroidered, including 'Minnie', 'Good Luck', birds, flowers, anchor, boat, fish, shell, spider web, crown,, 2 crossed flags, tennis racquets, Australian motifs including wattle. The centre panel has a row of ruched olive green ribbon each side and the whole quilt has a border of dark blue velvet. The padding is cotton...
History:
The quilt was made by Minnie Lucy Violet McLoughlin in Tasmania about 1895. It was made for her trousseau and embroidery on patches includes hearts, linked rings, blue birds, initials and sea related motifs. It is believed that Minnie was jilted and in 1915 she gave the quilt to Elsie Whelan on her marriage to Charles Brown. Elsie was the daughter of Minnie's friend Annie Whelan. Elsie and Charles gave the quilt to their son Terence in 1942 on the occasion of his marriage to Beryl.
The Queen Victoria Museum and Art Gallery acquired Minnie's quilt in 1999 with the assistance of the Tasmanian Quilters' Guild and the Launceston Patchworkers and Quilters Inc.
Story:
Minnie was born 28 August 1878 in Hobart to Joseph and Mary (born Woods) McLoughlin, their 6th child.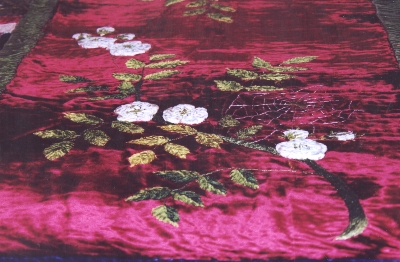 Related Quilts:

Quilt made of 26 x 13 rectangles of woollen men's suiting samples. Each rectangle is about 70 x 130 mm. Wide variety of patterns, mainly stripes, and colous. The padding is part of a worn cream blanket and joined pieces of woollen clothing. The backing is a well worn piece of brushed cotton. Machine made.
11900 x 1870 mm

Old jute wool pack opened out and joined together selvedge to selvedge. Ends bound with recycled curtain material.
1550 x 1321mm

Quilt made of tailors' swatches, machine constructed around a central frame that is mainly mid brown pieces. This is surrounded by rectangles of mainly charcoal greys and the outer border is navy blues. The backing is a heavy cotton with random green and cream and grey stripes.
1651 x 1220mm

Suffolk Puff or puff-ball quilt is made from scraps of dresses and pyjamas, mainly cottons, but also taffeta lining fabric, net, lurex, flocked organdie. The quilt is in bright clear colours, the fabric mostly in small prints, ginghams, different size spots, a few large prints, Chinese brocade, nylon. Puffs are 5cm across, and set 31 puffs across by 45 down. Puffs are squared off when whipstitched together, so corner holes are smaller than usual.
2180 x 1500mm

Log cabin patchwork pieces (2) with each block approximately 120 x 120mm. They are diagonally divided into light and dark side. Materials are mainly silks including silk velvets. Each block is stitched on to a backing square, pieces of old blanket, woollens, cottons, many very worn. There is no other backing.
Quilt is hand pieced.
1000 x 1000mm

Cotton quilt in pattern commonly known as "Double Wedding Ring'. Probably an American McCall's pattern. Hand stitched, florals, checks and plain pieces. The backing is pink cotton. Scalloped edge.
2300 x 1880mm