Quilt No.812QVM - Queen Victoria Museum and Art Gallery
Owner:
Queen Victoria Museum and Art Gallery
Description:
Quilt has a centre panel of white velvet roses and green leaves with embroidered spider webs, on red velvet. Two side panels are in crazy patchwork in plain and patterned silks and velvets. All patches are edged with feather, herringbone or blanket stitch. Many patches are embroidered, including 'Minnie', 'Good Luck', birds, flowers, anchor, boat, fish, shell, spider web, crown,, 2 crossed flags, tennis racquets, Australian motifs including wattle. The centre panel has a row of ruched olive green ribbon each side and the whole quilt has a border of dark blue velvet. The padding is cotton...
History:
The quilt was made by Minnie Lucy Violet McLoughlin in Tasmania about 1895. It was made for her trousseau and embroidery on patches includes hearts, linked rings, blue birds, initials and sea related motifs. It is believed that Minnie was jilted and in 1915 she gave the quilt to Elsie Whelan on her marriage to Charles Brown. Elsie was the daughter of Minnie's friend Annie Whelan. Elsie and Charles gave the quilt to their son Terence in 1942 on the occasion of his marriage to Beryl.
The Queen Victoria Museum and Art Gallery acquired Minnie's quilt in 1999 with the assistance of the Tasmanian Quilters' Guild and the Launceston Patchworkers and Quilters Inc.
Story:
Minnie was born 28 August 1878 in Hobart to Joseph and Mary (born Woods) McLoughlin, their 6th child.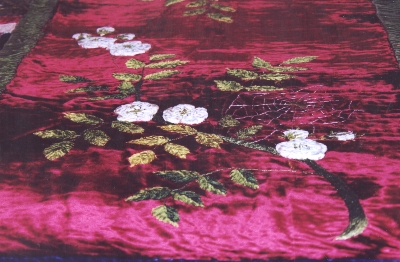 Related Quilts:

Patchwork quilt made from silk and challis and velvet hexagons set to form diamond shapes. The centre shape has 8 hexagons surrounded by a row of 16 hexagons. The outer border of the quilt is 2 rows of 'Tumbling Blocks' set amongst a variety of black silk and satin patches. There is a wide fringe in red, green, blue and yellow. There is no padding and the backing is a recent addition in red cotton, synthetis mix.
1770 x 1740mm

Patchwork quilt made from hexagon patches on one side, and squares and rectangles on the reverse. Cottons are used, mostly from dressmaking, in bright and light colours. The hexagons form an indented edge on all sides; on the back the rectangles have been cut at the edge to match the hexagon shapes. Hand sewn, the edge machine sewn.
No padding.
1551 x 1373mm

Patchwork quilt with alternate squares of green and fawn cotton headcloth. Various Australian wild flowers are embroidered in coloured threads in the green squares. In the fawn squares there is a stylised flower and leaf pattern outlined in embroidery. The border, front and back is green headcloth. The backing is printed cotton with a floral design. There is some padding.
1610 x 1610mm

Grandmother's flower garden pattern. All cottons with plain centres to 'flowers' then row of prints and outer row of plains. One hexagon flower has been repaired. Scalloped edges bound with yellow. Hand quilting around the hexagons. The backing is cream cotton and the padding is thin cotton. 2140 x 1780mm.

Cotton quilt made in the USA. The pattern is 'Turkey Tracks'. It is machine pieced and very finely hand quilted. The backing is calico and the padding is cotton.
1880 x 1753mm

Quilt of crocheted squares (sometimes known as Granny squares) in pinks, blues, greens and brown, with a green crocheted border edged in brown. Quilt is backed. A cot quilt or a knee rug.