Quilt No.812QVM - Queen Victoria Museum and Art Gallery
Owner:
Queen Victoria Museum and Art Gallery
Description:
Quilt has a centre panel of white velvet roses and green leaves with embroidered spider webs, on red velvet. Two side panels are in crazy patchwork in plain and patterned silks and velvets. All patches are edged with feather, herringbone or blanket stitch. Many patches are embroidered, including 'Minnie', 'Good Luck', birds, flowers, anchor, boat, fish, shell, spider web, crown,, 2 crossed flags, tennis racquets, Australian motifs including wattle. The centre panel has a row of ruched olive green ribbon each side and the whole quilt has a border of dark blue velvet. The padding is cotton...
History:
The quilt was made by Minnie Lucy Violet McLoughlin in Tasmania about 1895. It was made for her trousseau and embroidery on patches includes hearts, linked rings, blue birds, initials and sea related motifs. It is believed that Minnie was jilted and in 1915 she gave the quilt to Elsie Whelan on her marriage to Charles Brown. Elsie was the daughter of Minnie's friend Annie Whelan. Elsie and Charles gave the quilt to their son Terence in 1942 on the occasion of his marriage to Beryl.
The Queen Victoria Museum and Art Gallery acquired Minnie's quilt in 1999 with the assistance of the Tasmanian Quilters' Guild and the Launceston Patchworkers and Quilters Inc.
Story:
Minnie was born 28 August 1878 in Hobart to Joseph and Mary (born Woods) McLoughlin, their 6th child.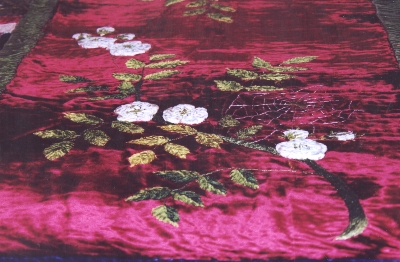 Related Quilts:

Patchwork quilt made of approx. 730 Suffolk Puffs, using mainly cotton materials in florals and plains. Each puff is 45mm diameter. The quilt centre has a square of 16 pink puffs outlined with a single row of blue puffs. Each corner of the quilt has a square of 9 puffs in a single colour. No padding. Quilt is edged and backed with a red and white tartan cotton.

Patchwork quilt made of squares and rectangles in woollen fabric, stitched together without any particular pattern. Colours are mainly green, grey, blue, black, pink and some yellow. Fabrics are plain, checks and stripes. No padding, quilting or binding. Backing is a remnant of synthetic fabric. The quilt has been well sued and is very worn with fabric torn and marked in some places.
1400 x 400mm
Dresden plate quilt with pointed pieces set around a white centre. Fabrics are checks, floral patterns and plains of the 1930s. The twenty blocks are sashed with plain mauve fabric which does not meet evenly in some places. The padding is two layers of cotton bedspreads. The backing is open weave rough quality cotton.
1860 x 1550mm.

Patchwork quilt. All cotton with cotton filling. Entirely made of hexagons, patterned and plain. 6 hexagons surround a central one. Colours, red, blue, yellow and white. Hnad stitched and hand quilted.
2108 x 1702mm

Double sided patchwork quilt. Machined squares and rectangles joined in strips and then the strips joined. Wide variety of materials, mainly woollen from hand or machine knitted jumpers, many patched. All materials came from worn garments from family and friends of the maker. No padding.
1860 x 1410mm

Patchwork quilt made from squares of cotton fabrics, from curtains, left over from dress making projects, and new fabrics. Colours are bright primaries and some pastels, prints are checks, florals, stripes and plain. Pieces were stitched together without any particular order. No padding or quilting. Backing is a cotton bedspread in turquoise and blue stripes.
2520 x 1600mm