Quilt No.675OHM - Oakey Historical Museum Society Inc.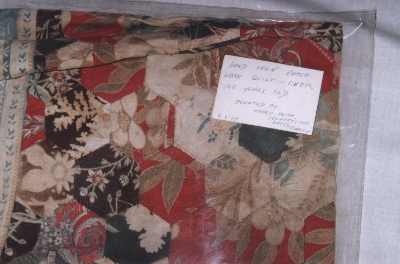 Description:
Cotton patchwork cover constructed from hand sewn hexagons (65mm) in cotton and linen furnishing materials. The curved edges are bound with blue and cream printed striped cotton. The backing material is not visible.
941 x 261mm
History:
This quilt is said to be Australian and the label inside the display cabinet reads: "Handsewn patch work quilt Over 100 years old Donated by Terry Smith Country Club Hotel Oakey 6-3-79".
Related Quilts:

Frame quilt pieced from square, rectangular and triangular pieces from plain and patterned cotton. The central motif of the rooster is appliqued in red cotton on white background with a border of red triangles. There is a white cotton backing.
2000 x 1925mm

Patchwork quilt made from rectangles and squares of woollen fabrics from dress making projects. Colours are mainly grey, blue, brown, green, with some red and yellow. Fabrics are plain, cheks and stripes. No padding or quilting. Backing is made of white flannelette sheets. The quilt has been lengthened after it was completed, and the backing sheet has been added to at the same place.
2470 x 1320mm

Large double sided quilt of rectangles and squares of men's suitings, patterned and plain on both sides. The top has a central motif of a circle of three segmented rings radiating from a single hexagon. The outer ring is all tailors' samples and the inner rings are a variety of materials. There is some featherstitching in red. The quilt is sparsley machine quilted.

Utility patchwork quilt made up of mainly squares of furnishing material machine pieced. It is backed with machine pieced patches of woollen jumpers, mainly machine not hand knitted. The back is possibly the top. There is no padding.
1950 x 1270mm

Quilt made from furnishing materials, mostly velour type or uncut moquette. The colours are dusty pinks and beige/camel/blue. It has been put together by making wide strips of various sized rectangles sewn together and any missing piece in a rectangle added by using another piece of material to complete the shape. There is no padding and the backing is winter cotton.
2000 x 1650mm
Quilt, single bed size, made from reused clothing roughly handstitched on to a backing of a wool/linen blanket type fabric in green, cream and brown stripes. Clothing is fronts and backs of old jumpers, vests etc as well as opened out sleeves in red, brown and grey. They are stitched together in several layers with long stitches. Another top may have been intended to cover the stitched down layers of clothing.
1500 x 1040mm