Quilt No.675OHM - Oakey Historical Museum Society Inc.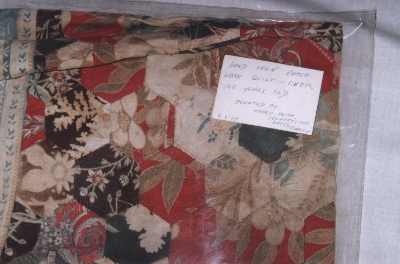 Description:
Cotton patchwork cover constructed from hand sewn hexagons (65mm) in cotton and linen furnishing materials. The curved edges are bound with blue and cream printed striped cotton. The backing material is not visible.
941 x 261mm
History:
This quilt is said to be Australian and the label inside the display cabinet reads: "Handsewn patch work quilt Over 100 years old Donated by Terry Smith Country Club Hotel Oakey 6-3-79".
Related Quilts:

Double sided square quilt. One side is a crocheted rug. The centre of this is 4 triangles joined and from this coloured bands in crochet radiate out to the border. The other side is randomly pieced scraps of mainly woollen material in checks, plains and tartans. Machine construction.
1600 x 1600mm

Patchwork quilt made from squares of cotton fabrics, from curtains, left over from dress making projects, and new fabrics. Colours are bright primaries and some pastels, prints are checks, florals, stripes and plain. Pieces were stitched together without any particular order. No padding or quilting. Backing is a cotton bedspread in turquoise and blue stripes.
2520 x 1600mm

This quilt consists of many blocks of different colours with etchings and verse from the bible machine appliqued on to a red backing material. It is a kit quilt.
2580 x 24100mm

One of a pair of patchwork quilts machine sewn from squares of cottons and silks in pinks, aquas and blues in plain and print materials. Both quilts are similar. The backing is white cotton. There is no padding.
2200 x 1500mm

Patchwork quilt of hexagons, handsewn, in print and plain cottons and rayon. Central star group has diamond shaped groups of patches, with smaller flower shapes, an inner border of a star shape in yellow hexagons, and an outer border of hexagons in vertical bands. Colours are mainly blues, reds, greens and yellow, the 'paths' and border are a pink print. The backing is herringbone stitched to the border or sashing, which has mitred corners.
2400 x 2340mm

The suffolk puffs are mainly cotton in a wide variety of colours and plain and patterned materials. The puffs are small squares rather than the more usual circles. The backing is teal satin hand stitched to the top. There is a teal bow at one end. There is no padding.
1570 x 1100mm