Quilt No.602PWH - The Pioneer Women's Hut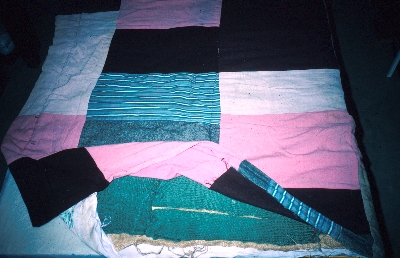 Description:
The top is machine pieced patches of used clothing. The backing is large pieces of dress materials and either end patches similar to the top. The padding is a chaff bag or similar with patches of worn, matted children's jumpers sewn directly on to it.
1400 x 1150mm
History:
This quilt was made by Lucy Gallagher at 'Eringoarrah' (a property near Wagga Wagga NSW) c.1940. It was one of many Lucy made for general use on beds. Lucy moved to Wagga after her husband Walter died and in 1986 donated the quilt to The Pioneer Women's Hut. It is occasionally displayed at the museum.
Story:
Lucy's husband Walter (deceased) worked as a general labourer at 'Eringoarrah', a large property near Wagga Wagga, for 39 years. Lucy identified where most of the patches came from: "That's part of Mr. Sawyer's overcoat" (Mr. Sawyer was the owner), "That's part of dear Mrs. Wishart's frock". Lucy referred to it as a Wagga rug.
Related Quilts:

Wholecloth pram quilt with a top of pink cotton sateen, and the reverse is a more finely woven, ivory, fabric. All over quilting design as main feature, with stylised hearts, leaves and cross hatching. The padding is cotton batting. 870 x 660 mm.

Hand stitched, cotton, appliquéd, quilt in a flower pattern on a plain background. Colours are shades of green, apricot and browns. This quilt was known as a 'Bride's Quilt'. Padding is thought to be layers of white fabric raised almost like a wadding. The backing is cotton material. 2470 x 2020 mm.

It is a plain white linen double-bed sheet or bed-cover on which have been embroidered (over autographed signatures) the names of members of various associations and clubs, local MPs, visiting dignitaries etc associated with the Berry Agricultural Show of 1906. There are badges and emblems also embroidered in red or pale gold thread including the central Berry Agricultural Society Association motif surrounded by a wreath of lillipilly leaves and berries, a rebus on the name 'Berry'.

This utility quilt/eiderdown has a wholecloth top of faded floral cotton, a frill of the same material and a centre diamond of plain green cotton. The backing is plain green and the padding is kapok.
1753 x 1474mm

Machine sewn quilt made from 125mm squares of scraps left over from dressmaking, joined in strips and then the strips joined. There is a border of fawn cotton and the backing is the same material. The padding is an old blanket and the border is padded with sheep's wool.
1400 x 925mm

Patchwork quilt of pieced repeat blocks in 'T' pattern,mainly cottons. Quilt is constructed with 12 blocks across and 12 blocks down. Some fabrices have been reused from clothing, some blocks have patches which have been pieced from scraps to make enough fabric for the pattern. Padding is' pellon', quilt is backed, bound and quilted.
1600 x 1500mm