Quilt No.828NTC - National Trust of Australia (TAS)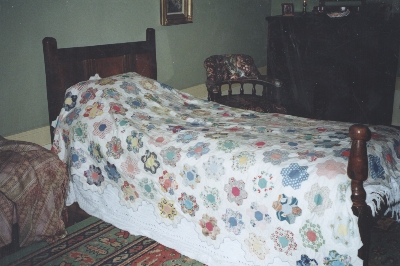 Description:
Quilt made of hexagons in cotton materials, the hexagons set in the 'Grandmother's Flower Garden' pattern with 6 patterned patches set around a plain coloured centre patch and white hexagons forming 'paths'. There is a white cotton backing with the edges turned under all the way around and top and backing are joined by a blue machine sewn satin stitch. The patches are hand sewn.
2160 x 1830mm
History:
Unknown. Thought to have been made c.1965
Related Quilts:

Double sided patchwork quilt. Both sides have central frame surrounded by borders. Side 1 has diamond of squares set in a square frame 490mm. Borders are squares and triangles. Side 2 is central frame of squares on point surrounded by plain grey velvet border then marroon border. Materials are cottons, silks, velvet, crepe, rayons in a wide variety of colours and apperned and plain. Machine construction. No quilting. Padding is a cream wool blanket.
1440 x 1420mm

Quilt top of hexagonal patches in silk and velvet in colours of brown, black, soft green, maroon, light yellow and blue. Some materials self patterned. Blue backing papers can be seen at edges behind some patches.

Double sided quilt. One side is different shapes including rectangles in various sizes in wools and men's suiting material. It is hand pieced. The pther side is mainly cottons in florals of different patterns joined in strips of varying width and machine and hand pieced. There is a 25mm binding. The padding is an old blanket.

Quilt of pale yellow cotton sateen with a centre star motif with 8 points in pink cotton sateen. A border of pink cotton sateen has pink triangles on each side. The quilt is machine sewn and elaborately hand quilted with designs including fleur-de-lys shape, feathers, vine pattern, clam shells, 8 petalled flower and cable pattern with the main ground cross hatched. The backing is pale yellow cotton sateen.
2235 x 2065mm

Hand sewn quilt (possibly child's or table top) of crazy patchwork in silk, silk ribbon and cotton velvet. The top has surface decoration of embroidery on all seams, feather stitch and blanket stitch variations. Many of the crazy patches are also embroidered. The centre patch has a rooster embroidered in lame thread. Embroidered motifs are hearts, butterflies, guitar, cow, Little Red Riding Hood, horseshoes, crown, clover leaf. Stitches are feather, stem, satin and blanket. Embroidered initials are 'B', 'R', and 'S'. The backing is dark grey silk.
840 x 840mm

Cotton quilt made in the USA. The pattern is 'Nine Patch'. The quilt is machine pieced and hand quilted. The backing is cotton material possibly shirting. The padding is cotton.
1702 x 1702mm