Quilt No.862AG - Annette Gero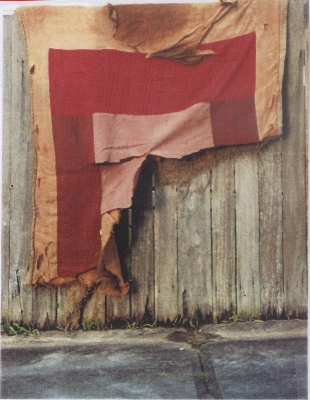 Description:
Domestic Wagga made from wheat bags sewn together and covered with large pieces of material.
1400 x 1230mm
History:
This domestic Wagga rug was made by Gil Jackson (1906-1995) in the Nowra district NSW c.1926. It is now in the collection of Annette Gero.
Story:
"Gil was the second eldest son of a family of four sons from Gloucestershire. He always had a hankering to see more of the World. Read about the 'Dreadnought Scheme' and applied for assisted passage. When first arriving in Australia in 1925, Gil, like every 'boy' who came out from England with the 'Dreadnought Scheme' was sent to Scheyville Farm up the north coast and trained in farming.
After three months at Scheyville, Gil was sent to Nowra, to Murphy's farm, at Lower Nimba. This is where he made the 'Wagga' quilt. He certainly didn't have many possessions at this stage. 'Murphys' was a happy place, a big family of three boys and three girls.
After three years in Nowra, wishing to better himself, he moved to Sydney. He had a rough time getting permanent work, tried all sorts, when things got really tough with the depression, he 'humped his bluey' and took to the road.
During his stay in Sydney he stayed in many cheap boarding houses. He met his first wife during this time. The woollen fabric may have been her shirt and there is also a small child's dress covering the original hessian bags. The wagga must have been special to him as he kept it till his death in 1995." [Annette Gero]
Related Quilts:

Patchwork quilt made of hexagons in printed cottons, colours predominantly red, blue pink, brown and yellow. Handsewn. Attached to a white cotton backing. Cotton padding.
1829 x 1829mm

Patchwork quilt with alternate squares of green and fawn cotton headcloth. Various Australian wild flowers are embroidered in coloured threads in the green squares. In the fawn squares there is a stylised flower and leaf pattern outlined in embroidery. The border, front and back is green headcloth. The backing is printed cotton with a floral design. There is some padding.
1610 x 1610mm

Autograph quilt consisting of 372 x 100mm calico squares with signatures worked in green thread. There is a scalloped border. The backing is green paisley flannelette and the padding is an old twill sheet.
2200 x 1840mm

Crazy patchwork quilt with small patches in velvet, silk, brocade and cottons most with hand embroidery over the seams. There are many motifs such as flowers, butterflies, birds also dates, initials and names of local properties. It is padded with a thin soft material and the replacement backing (old) is satin. There is a wide rose coloured frill on all sides.
1680 x 1380mm

"This quilt follows the traditional hexagon patchwork pieced pattern, which are then joined and sometimes edged with a contrasting border. The edges of the quilt have been turned and then scalloped edges made of identical patches to the main body of the quilt have been attached to the edge. The quilt is fully lined, and the lining is visible front the front face through the gaps between the scalloped edge. The lining is attached to the patchwork with a row of stitches along the edges; there are no stitches in the centre field. The fabrics of the quilt are plain weave cotton in simple floral and geometric designs. Most of the fabrics are monochromatic. Several different colour ways of the same fabric are evident which could suggest some fabrics were from manufacturer samples. The lining is a William Morris print.
Each of the patchwork pieces (there are several thousand present) are sewn together with very fine overcasting stitches. The quilt is entirely hand sewn. There is some evidence that templates from the hexagon pieces possibly blotting paper, remain in situ���The quilt is not padded or quilted. The lining is fine twill weave cotton printed in pink and pale purple. The design follows William Morris's 'Strawberry Thief design'." [NGA] 2075 x 1911mm

Randomly patched quilt in many different colours and fabrics. There are appliquéd shapes over many pieces including Suffolk Puffs, hearts, hexagons and other shapes. There is an embroidered inscription "A11 to S11 1829" which is thought to mean AN to SN 1829. There is no padding and the backing is white cotton.
2000 x 2200mm