Quilt No.805QVM - Queen Victoria Museum and Art Gallery
Description:
Quilt with alternate red and white diamonds in cotton, with wide border of white cotton and a white cotton crochet edging. All diamond patches and edging were joined to white border decorated with feather stitch. White border edged with zig-zag white feather stitch. Centre rectangle of white has 4 red petals edged with white feather stitch and 4 red diamonds each embroidered in white clockwise: '1898', 'R', 'L', 'K'. Diamonds edged with feather stitch. There is no padding and the backing is white cotton.
2420 x 1740mm
History:
The quilt was made in Tasmania by Rachel Louisa Raspin (1863-1932) c.1898. It was given as a gift to Clarice B. Raspin by Mrs. Miriam Raspin whose husband George was Rachel's brother. It was donated to the Queen Victoria Museum and Art Gallery in 1994 by Mrs. Clarice Raspin.
Story:
Rachel Raspin, the maker, was born at Prosser Plains, east coast of Tasmania near Buckland on 24th. December 1863. She passed away at Buckland where she lived most of her life, on 3rd September 1932. She was the seventh of twelve children born to Thomas and Sarah Raspin of Prosser Plains. Rachel Louisa never married.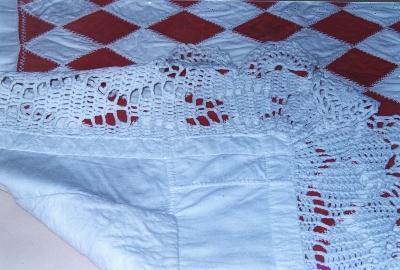 Related Quilts:

Reversible quilt made of squares and rectangles of mostly wool suiting and some heavy cotton. The borders are of joined brocade. There is no padding.
1600 x 1220mm

Hexagon quilt made from dressmaking scraps, nearly all woollen. The hexagons measure 150mm. It is hand stitched.
1170 x 1100mm

Suffolk Puff quilt with puffs mainly in patterned cotton pieces saved from 60 years of household sewing. Puffs are formed into rosettes and the holes are on the top making a decorative feature. It is hand sewn.
2700 x 2400mm.

Machine made cotton quilt with 100mm cotton squares placed diagonally with peaks running around the edge. The colours are mainly autiumn tones and the patterns include checks, tartans, florals, geometric and plains. Materials were scraps left over from sewing projects such as children's clothes. There is a matching valance.

Quilt top. The centre piece is appliqued with cross strips and triangles with 'Chester 4 �.' printed on a centre blue strip. The last letters are difficult to read. The borders are triangles, rectangles and squares in cottons (including dimity) and some chenilles.
1860 x 1760mm

Patchwork quilt made from hexagon patches of cotton, silk, brocade, sateen and wool. Some silk patches are individually lined. Colours are mainly red, blues, purple, black, yellow and brown, with some pastels. Many silk patches have disintegrated, showing the paper templates. Quilt has a brown cotton inner lining, then a blue cotton backing, and is edged on the reverse with checked silk. Hand sewn by more than one person: one experienced sewer, one not so experienced.
1370 x 1170mm