Quilt No.917AK - Ann Kyranis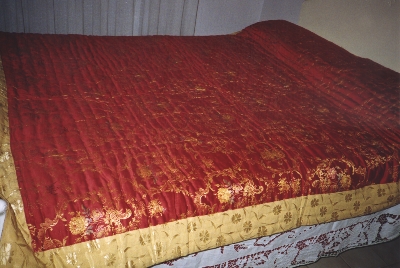 Description:
Traditional Greek quilt. The top is a piece of deep red and gold brocade (in Greek a 'stoffa'). The border and the backing are made from gold brocade woven with a daisy pattern. It is hand quilted in parallel lines.
2150 x 1720mm
History:
The quilt was made by Maria Efstathis in El Arish, Queensland in the 1950s. It was made for her daughter, Ann Kyranis, who has been the only owner. It is not used now.
Story:
"From Kastellorizo to Queensland
Ann Kyranis' lovely 'paploma' (quilt) was one of several made by Maria (Pitsonis) Efstathis. Maria was the only daughter in her family on the tiny Greek island of Kastellorizo, and married Eleftheri Efstathis on his return there in 1933, to find a bride. He had been in Australia for several years, working with his brothers in the Liberty Cafe in the small north Queensland town of Tully. This had enabled him to provide his new bride with a brand new house, a traditional 'Queenslander'. Other women, at that time, were not so fortunate, arriving from their beautiful Mediterranean island to 'dirt floors in the cane cutting barracks'! Many Greek men from Kastellorizo were employed in the cane fields, as well as in cafes - their women endured the pain and isolation of coming to a new country and very difficult living conditions. Maria was always thankful for her new house and for the company of other Kastellorizian women.
For Maria, it was unthinkable that her three daughters should marry without a traditional 'paploma'(quilt) in their 'prika' (dowry or trousseau). But to make this happen in this remote place was an enormous challenge. For two of the quilt tops, Maria used a patterned brocade piece, a 'stoffa', which she had purchased in Alexandria, Egypt, when travelling to Australia. The gold and dusty-pink brocades were bought somewhere more local; as were a huge number of rolls of cottonwool - probably from the local chemist, as there were no supermarkets then. This was Maria's practical solution to the problem of having no raw cotton to use as padding.
To make each quilt, Maria would carefully unroll the cottonwool and its paper lining (about 9" or 23 cms wide) inside the sewn casing, then, just as carefully, would remove the long strips of paper, leaving behind the thin layer of cottonwool. With these many layers in place, came the laborious task of handstitching the design all over the quilt. An enormous labour of love - all done 'on the wooden floors in the heat of north Queensland!'
Ann, the oldest of Maria's five children, at age eighteen married Agapitos (Jack) in Cairns. Sadly, Jack died at a young age leaving Ann with their two sons, James John and Terry John. Now there are five grandchildren - James and Irene have Anna Jane, Jonathan and Stephen; Terry and Katina have Jake and Ann-Marie.
Over the years, Ann has been very involved with various organisations, particularly in connection with St. George Greek Orthodox Church. She has made a very important contribution to the development of the Greek community in Brisbane by founding the Hellenic Dancers in 1977, and working with them until 1999, her particular interest and responsibility were the authentic Greek costumes worn by the dancers.
Ann regards her 'paploma' with its associated memories and stories, as a tribute to her mother Maria."
[Written by Lula Saunders, adapted from interview 6/9/00 for the National Quilt Register]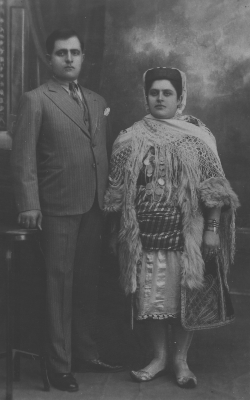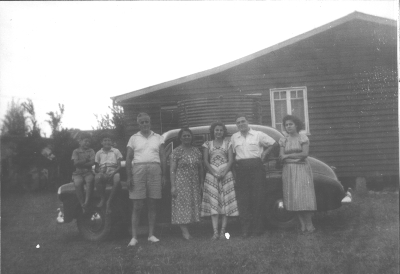 Related Quilts:

Wholecloth pram quilt with a top of pink cotton sateen, and the reverse is a more finely woven, ivory, fabric. All over quilting design as main feature, with stylised hearts, leaves and cross hatching. The padding is cotton batting. 870 x 660 mm.

Hand stitched, cotton, appliquéd, quilt in a flower pattern on a plain background. Colours are shades of green, apricot and browns. This quilt was known as a 'Bride's Quilt'. Padding is thought to be layers of white fabric raised almost like a wadding. The backing is cotton material. 2470 x 2020 mm.

Wholecloth quilt with both sides in a cotton floral material with a dusty pink background. All over hand quilting is in loose parallel lines.
Stavroula re-covered this quilt with this material about 20 to 25 years ago. Originally the quilt had a yellow gold satin top with yellow gold cotton backing. Padding is cotton wadding.
1900 x 1600mm

Wholecloth quilt with white cotton centre, sky blue cotton border and dark blue binding. There are 9 repeat designs of cross stitched flowers and leaves in the centre section. Around the blue border there are 18 cross stitched flowers. Blue on blue and white on white cotton quilting of diagonal lines and curls pattern the quilt. The backing is white cotton and there is a very light padding.
2338 x1981mm

"This all white quilt has a front face of fine white plain weave cotton. The quilt is lined with brushed cotton twill. The two layers are quilted with white cotton thread across the entire surface with rows of zigzag stitching 16-20mm apart.
The edges of the quilt have been cut to form scallops and the raw edges here are secured with a binding of fabric similar to that used on the front face of the quilt. All work on the quilt appears to be hand sewn." [NGA] The quilt is not padded. 2655 x 2150mm

Wholecloth quilt of fine cream homespun embroidered with red and white stranded cotton. It is a cross stitch design of roses pre stamped on the material. The quilting consists of a fern pattern medallion in the centre, straight lines and a fern pattern border. The padding is fine wadding and the backing is white sheeting with a small floral pattern,
2160 x 1650mm