Quilt No.408MC - Margery Creek for Eugene Creek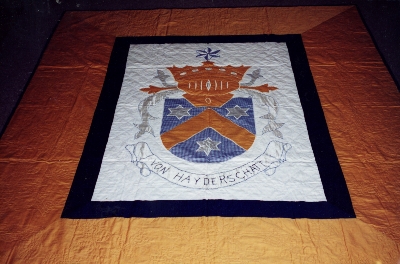 Owner:
Margery Creek for Eugene Creek
Maker
Maker:
Olive Creek and Estella Dingley
Description:
Wholecloth polyester and cotton quilt in deep orange with centre frame of Creek family crest. The crest is machine zig zag appliqued to white background and has a black border. The quilt is machine sewn, hand quilted, has a white backing and a thin black binding on the border. The padding is polyester.
2235 x 1854mm
History:
Eugene Howard Creek researched the family crest in the USA in the 1960s. His mother, Olive Glodie Creek (born Dingley) and grandmother Estella Hendershot Dingley constructed the quilt. It is now in Australia with Eugene Howard Creek and Margery Creek.
It is not used.
Related Quilts:

Wholecloth pram quilt with a top of pink cotton sateen, and the reverse is a more finely woven, ivory, fabric. All over quilting design as main feature, with stylised hearts, leaves and cross hatching. The padding is cotton batting. 870 x 660 mm.

Hand stitched, cotton, appliquéd, quilt in a flower pattern on a plain background. Colours are shades of green, apricot and browns. This quilt was known as a 'Bride's Quilt'. Padding is thought to be layers of white fabric raised almost like a wadding. The backing is cotton material. 2470 x 2020 mm.

Wholecloth quilt, machine sewn, made from cotton chintz with a pale green background and a floral pattern of bunches of pink roses and blue flowers, reversible. The centre is stitched in a diamond pattern with two outside borders, then filled with feathers, using a broom handle to force the feathers through. Cover made from 36" fabric, the pattern matched exactly. Excellent condition. Feather filling was collected by the makers from backyard poultry, geese, ducks, fowls. Called an eiderdown.
1830 x 1480mm

Wholecloth quilt, bright crimson cotton. Hand quilting is in thick cotton with a medallion design in the centre, vases of flowers in each corner, and some cross hatching. Padding is thick flock, possibly compacted fabrics, and backing is yellow cotton. 2250 x 1930 mm.

Wholecloth quilt. Quilting pattern is a large 'feathered thistle' with thick stem, as the main design feature. The border is a combination of straight and curved parallel lines. Burgundy sateen with damask weave. All quilting is handstitched. Padding is cotton wadding and backing is tomato red cotton. 2150 x 1820 mm.

Reversible Durham quilt made with nine pieced strips of deep green polished cotton joined together. Very finely hand quilted in an all-over traditional English quilting design. It is padded but the type of padding is unknown. 2220 x 2020mm.