Quilt No.986VD - Virginia DeFriest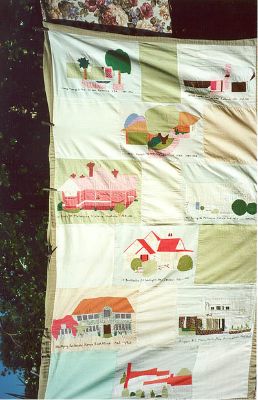 Description:
The quilt consists of 9 large rectangles each depicting a house in which the owner and her husband lived in overseas. Each house and location is identified. The houses are appliquéd and embroidered detail has been added to the houses and gardens. Plain cotton rectangles are in between the appliquéd houses. The padding is an old woollen blanket and the backing is pale green cotton percale. The quilt is tied at intervals through the 3 layers. 2180 x 490 mm
History:
The quilt was made by the present owner and is still owned by her. It is still used.
Story:
Virginia and her husband married in 1950. Her husband's work took them to many countries including Kenya, Sierra Leone, New Zealand and Ghana. Virginia appliquéd and embroidered representations of 12 of the houses in which they lived. The quilt was started in 1964 and houses were added as they moved. In 1964 it was awarded second prize in the Royal Agricultural Society of Kenya's show in Nairobi. The certificate reads "Most interesting quilt. Delightful."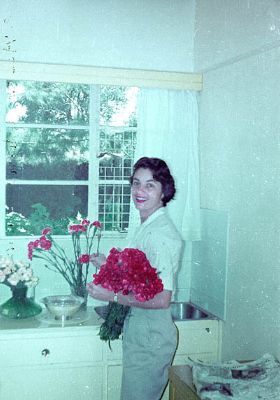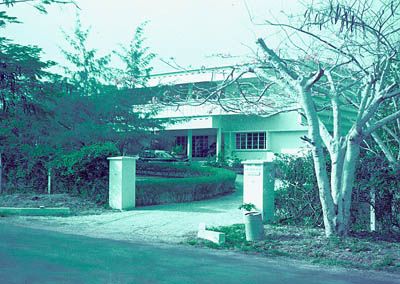 Related Quilts:

Hexagons appliqued onto sheeting. 5 groups of 6 hexagons in centre of sheet and continuous row of hexagon rosettes around border.
2261mm x 1664mm

Hexagon quilt made from dressmaking scraps, nearly all woollen. The hexagons measure 150mm. It is hand stitched.
1170 x 1100mm

Quilt made of 9120 very small Suffolk Puffs, each one about the size of a 20 cent piece. "Each piece backed and the front of it drawn up like a reticule. It was not backed and was rather fragile, so I backed it on to a sheet, as it was heavy and in danger of tearing when lifted." [Gillian Sullivan]
2360 x 2230 mm

Hand pieced log cabin quilt in silks, satins and velvets. There is a silk backing machined on, possiby a later addition. The quilt has over 5000 pieced.
1820 x 1680mm

" A wide range of cotton fabrics have been used to make this quilt in the traditional log cabin style. The strips of the log cabin are joined by rows being hand sewn onto a small square backing fabric, each square of strips has then been hand sewn together to form the quilt. The work is backed with a sateen printed fabric decorated with paisley design. A strip of the lining trims the edge of the front face of the quilt. The lining is attached with machine stitching. There are numerous tacking stitches that remain in the front face of the quilt. There are approx 9000 pieces in the quilt, most being only 5mm in width.
The quilt is of three layers because the strips of the log cabin are attached to a backing piece, and then the quilt is lined; however it is not padded." [NGA]

Quilt of hand stitched cotton hexagon patches, the hexagons are in groups of 7 to form flowers, with white or cream 'paths'. The quilt centre has 19 flowers grouped within a single hexagon border of brown and red patches. In each corner of the quilt there are 6 flowers grouped around a larger flower within a single border of darker print hexagon patches. Backing is cream cotton, machine stitched to the top. There is no padding or quilting. Some fabric patches have deteriorated.