Cape Jaffa Lighthouse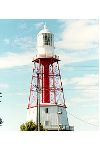 The lighthouse stood for 100 years offshore on a reef, 5 miles at sea. When it became obsolete it was dismantled and brought ashore and re-erected in Kingston. The lighthouse is furnished with some of the original furniture and contains all the lantern room equipment. Although not used as a lighthouse , it is still in working order.
Address:
Marine Parade, Kingston, SA
Hours:
2-4.30pm during school holidays, or by request
Admission:
Adults $3, Students $1.50
Facilities:
Guided tours, education program and brochure available
Collection:
The height of the lighthouse is 134 feet and one of the few lighthouses with living quarters as part of the structure. Some original furnishings remain in the lighthouse
Items
Lantern prisms
Lantern Room Equipment
Description:
Crystal prysms for refecting light (lantern room equipment), dozens of shaped crystals, irreplaceable.
Bolts
Old Light House Bolts
Creator:
Wells Bros., England
Description:
Some of the old cast iron bolts which were not used in reconstruction
Wall clock
George Firth Lesley Clock
Description:
Wall clock donated by family in memory of former keeper.
Log book
Keeper Record Book
Description:
Keepers kept records of weather, shipping, activities etc.
Furniture
Description:
Original furniture used in bedrooms, including 3 cedar chest-of-drawers, 3 Australian cedar chairs and 4 iron beds.