Kingston Pioneer Museum
The Museum is housed in a former General Store and timber yard. The collection comprises machinery, tools, clothing, photographs and household goods used by early settlers in the district. Each summer holidays an exhibition is held in the museum as an added attraction.
Address:
23 Cooke Street, Kingston, SA
Hours:
2pm-4pm during school holidays
Admission:
Adults $2, children $1, concession rates for school groups
Facilities:
Toilets, guided tours, disabled access
Collection:
Approximately 2,000 items
Items
Table
Cedar Table & Pewter Ware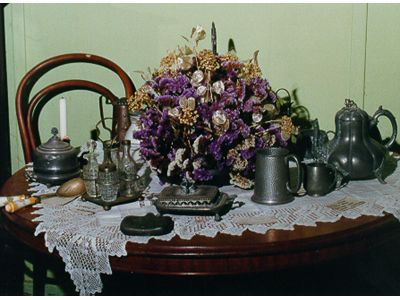 Description:
Small round dining table with centre legs used to display a collection of old pewter table ware
Buggy
Horse Drawn Buggy
Description:
Well kept and would have been a "going to town" vehicle (not one for farm work).
Paint work and tyres are excellent
Sideboard
Sideboard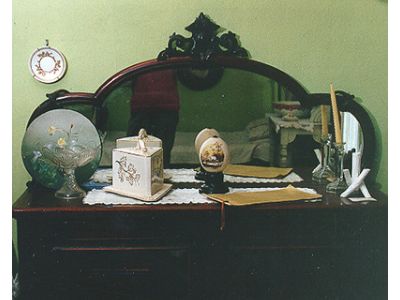 Description:
Beautiful dining room sideboard, small enough to fit into a modern home.
Was donated by a National Trust Member, the sideboard had been his mothers. Attractive cut woodwork trim with two drawers and 2 cupboard doors.
Anchor
Anchor from "Margaret Brock" Shipwreck 1852
Description:
Large anchor from sailing ship, iron, brought to surface in 1970 and presented to Museum in 1972
When the Anchor was first salvaged, it was taken to Adelaide in a special tank treated with preservative to prevent deterioration
Patchwork Quilt
Logcabin patchwork quilt
Description:
Made from tiny scraps of fabric in about 1955.
Given to National Trust in 1998. A photo and description of the object can be found in "Australia's Quilts A Directory of Patchwork Treasures", Jenny Manning, Published 1999