Tasmanian Museum and Art Gallery
Tasmania's state museum and art gallery established in the 1840s as the museum of the Royal Society of Tasmania. The buildings and site are of historical significance and include the first purpose built museum building dated 1863, the Commissariat Store 1808, the Cottage c1810 converted 1828, the Bond Store and Court Yard and Gateway 1823, the Queen's warehouse 1874, Art Gallery 1901, Custom House 1901 and extension of 1966 and 1986. The collections include Natural Sciences (Zoology, Botany, Geology), Applied Science, Humanities (Art, Decorative Arts, Costume, Social History, Indigenous Cultures, Numismatics, Photographs, Documents and Ephemera) and Library. The Tasmanian Museum and Art Gallery also includes the Tasmanian Herbarium.
Address:
40 Macquarie Street, Hobart, TAS
Hours:
10:00 to 5:00 daily except Good Friday, Anzac Day and Christmas Day.
Facilities:
Bookshop, guided tours, wheelchair access, lecture hall, Friends of Museum, Royal Society of Tasmania, children's exhibit area
Items
Marcus's drum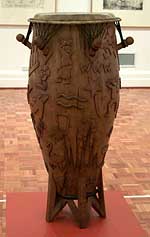 Daguerreotype photograph
Murray Street, Hobart 1848
Description:
Full plate daguerreotype in Huon pine frame
Oil Painting
Cupid and Psyche
Creator:
W. A. Bouguereau
Description:
Oil on canvas painting of two winged figures in gold frame
Zoological specimen
Thylacine cynocephalus "Tasmanian Tiger" pouched young
Description:
Wet stored specimen of Thylacine cynocephalus pouched young
Geological Sample
Crocoite
Description:
Very rare mineral, colour orange, lead crocoite
Rum Corp Military Jacket
Description:
Red and yellow cut away tailed military jacket of NSW Rum Corp, silver buttons