W.L. Crowther Library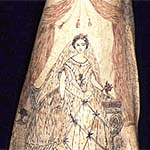 The W.L Crowther Library is one of the State Library of Tasmania's heritage collections. Though primarily a library collection, it includes significant museum collections, especially relating to whaling, medical history and Tasmanian history.
It has a wonderful collection of scrimshaw, the mariner's art of carving on bone, and a few items are always on display.
Address:
State Library of Tasmania, 91 Murray Street, Hobart, TAS
Hours:
9.30am-6pm, Mon-Wed and Fri, 1pm-9pm Thu
Facilities:
Wheelchair access, copying facilities and services
Collection:
Approximately 14,000 library items, 1900 photo/albums, 270 artworks and 350 objects/groups of objects