Ian Potter Museum of Art, the University of Melbourne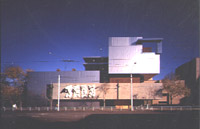 As a university-based art museum, The Potter offers distinctive experiences to visitors. Like the University itself, The Potter is committed to research, teaching and the enhancment of the cultural and intellectual life of the community. Selections from the University of Melbourne Art Collection are always on display, presenting art works and cultural artefacts collected over almost 150 years. Housing the second largest art collection in Victoria, the Potter's displays range from classical antiquity to contemporary art. Our changing exhibition program brings art from around Australia and the world to Melbourne. Together, our exhibitions, publications and education programs offer access to the latest research and debate on art, history and contemporary culture.
Address:
The University of Melbourne, Swanston St (opposite 800 Swanston St), Melbourne, VIC
Hours:
Closed for renovations in 2004 and will be reopening in semester 1 in 2005.
Facilities:
Education programs, exhibitions program, guides and catalogues, digital access to collections, membership program, conservation centre.
Collection:
The Art Collections- Christine O'Loughlin's Cultural Rubble, Napier Waller's Leckie Window, The Russell and Mab Grimwade Collection, The Ewing Collection,The Rupert Bunny Collection, The Hugh Ramsay Collection, The Norman Lindsay Collection, Norman Macgeorge and the 'Fairy Hills'circle, The Ludwig Hirschfeld Mack Collection, The Leonhard Adam Collection of International Indigenous Culture, Australian Art of the 20th Century,The Gerard Herbst Poster Collection, Vizard Foundation Art Collection of the 1990s, The Classics and Archaeology Collection and the Virtual Museum.
Items
Stained glass window
The Leckie Window'

Creator:
Napier WALLER, born Penhurst, Victoria 1894, died Melbourne 1972
Description:
Stained glass, lead. Approx 1,000 x 130cm, The University of Melbourne Art Collection, Gift of John E Leckie, 1935. Reproduced courtesy the estate of the artist. Commissioned for the original Wilson Hall at the University of Melbourne in 1935, and saved from the fire which destroyed the original Wilson Hall in 1952. The window's allegorical design tells of the growth of civilisation through Biblical and Greek mythological imagery.
Item Id Number:
1935.0002
Melbourne, University of Melbourne
Sculpture
Cultural Rubble'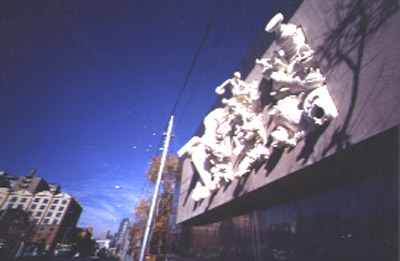 Creator:
Christine O'LOUGHLIN, born Australia 1948, lives and works in Paris
Description:
Reinforces polyester resin, 149.5 x 319.5cm, The University of Melbourne Art Collection. Commissioned by the University of Melbourne, with funds provided by the Ian Potter Foundation. Sculpture commissioned for façade of previous Ian Potter Gallery - now incorporated into façade of present building (opened 1998). Comprises four panels, reinforced fibreglass, each made up of shattered fragments from classical statuary, architecture and pottery from Musee du Louvre. Draws attention to the received ideas and cultural fragments of a European past, upon which Australian Art history has traditionally been based.
Item Id Number:
1993.0019
Australia, Melbourne, France, Paris.