Coburg Historical Society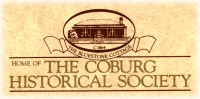 To preserve in our Museum memorabilia of Pentridge and Coburg. To encourage in our local schools an interest in Coburg History.
Address:
82 Bell Street, Coburg, VIC
Hours:
2pm-5pm first Sun of the month except January, or by arrangement.
Facilities:
Toilets, picnic area, guided tours, special membership, brochure, magazine/newsletter
Collection:
2000 items, 3 000 photographs. his bluestone building (on the register of Victorian Historic Buildings) houses a range of local history material, including extensive records of early land transactions in Coburg and Pentridge, photographs of the district and of Pentridge Prison. Artefacts relating to early Coburg are displayed and include two sets of Coburg Mayoral Robes and Town Clerk's Robes. Front room dedicated to "Australia Remembers" displays of both world war memorabilia. Front garden of cottage has been reconstructed into a "Cottage Garden". Other displays include memorabilia from World War I and II and a cottage kitchen restored to its original state. The building includes a large annex, the Gordon Perlstein Annex. This contains a large collection of Pentridge Gaol memorabilia (all doors, padlocks, handcuffs, photographs, record books of prisoners, and signage given to us by the people who conducted tours prior to the gaol closing.
Items
Musical Instrument
Minature Bellows Organ
Creator:
Manufactured in Paris 1834
Description:
Minature bellows organ came from Wentworth House (National Trust)
Honour Boards
Honour Boards
Creator:
Various Organisations
Description:
Honour Boards from various organisations, such as the Coburg Football Club and the Coburg Harriers, mainly sporting prior to 1914.
Signage
Pentridge Gaol Signage
Description:
Pictures and descriptions of all parts of Pentridge Gaol.
Photographs
Council Photographs
Description:
Photographs of councillors and parliamentarians, dating to 1870's.
Cottage Kitchen
Description:
Built in 1865 as a cottage. Refurbished with gifts from Coburg residents. Includes all sorts of boilers, saucepans, mangle, scrubbing boards etc.