Gloucester Lodge Museum
The museum is administered by the City of Wanneroo and has displays of local interest; Natural History of the area, Aboriginal culture and European settlements. The collection is housed in the Gloucester Lodge, a heritage listed building. The lodge was built in 1933 by 'sustenance' workers initially to service the swimming pool. In October 1934, the then Duke of Gloucester, Prince Henry, stayed one night and the building was later renamed Gloucester Lodge. It became a popular hostel for holiday makers, in particular honeymooners. During 1942 to 1945, it was closed to the public and used as headquarters by RAAF Radar and communication unit No 227 monitoring approaching aircraft to Perth and Pearce Air Force Base. Re-opened after WWII, it again became a hostel, but through declining numbers the lodge closed in 1976. The City of Wanneroo leased the museum and opened a museum in it. Group bookings can be arranged. For school classes worksheets are available in three levels and designed to incorporate student outcome statements.
Address:
Yanchep National Park, Yanchep, WA
Hours:
11.30am-4.30pm Sat, Sun, Tue, Wed
Admission:
Adults $2.00, Pensioners and Children $1.00
Facilities:
Wheelchair access on ground floor, Guided tours by appointment, Educational worksheets (child), brochures.
Collection:
The Museum's collection encompasses natural history, flora and fauna, Aboriginal habitation, European settlement, shipwrecks off the coast and history of its location, the Yanchep National Park and the World War II activities within the district. Included in natural history is a geological landform of a section through the Wanneroo Shire featuring the distinct limestone ridges and lake systems. Accompanying this is a scale model of a cave showing the formation of stalactites and stalagmites. Local industry is also included with crayfishing off the coast, limestone burning and the extraction of high quality glass sands as a successful endeavour from the 1920's for approximately 20 years. The collections of artifacts from European settlement was largely donated by descendants of pioneering families who came to the Wanneroo wetlands as market gardeners; farming implements, dairying equipment and tools for building anything from fences to homes are displayed.
Items
Road Transport
Wanneroo Rd wooden blocks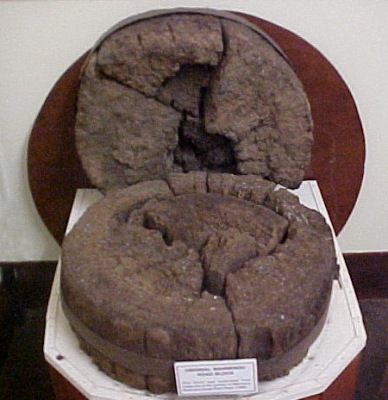 Description:
Wanneroo Road was upgraded in the latter years of the 19th Century from a sand track to a wooden block and plant road. These blocks are from the Wanneroo Road section near Ocean Reed Road and removed when the road was realigned.
Survey Marker
Survey Peg - Lake Joondalup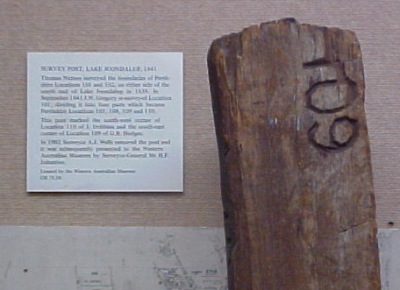 Description:
Perthshire locations 101 and 102 at the south end of Lake Joondalup were marked at their intersection by this peg in 1841. Post used by Surveryor J Gregory in 1841. Peg owned by the WA Museum and on loan.
Military
10th Light Horse Regiment display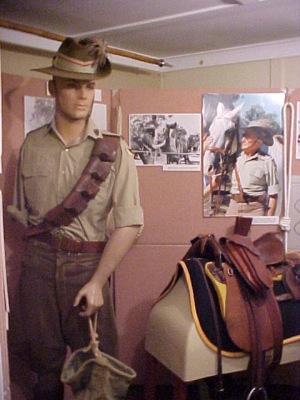 Description:
A display of 10th Light Horse Regimental items including uniforms, ephemera and photographs. The 10th Light Horse Regiment, the last of Australia's mounted regiments, was disbanded in Wanneroo in April 1944.
10th Light Horse Heritage Trail, Wanneroo Road, Neerabup, WA
Tools
Settlers' Tools (in replica shed)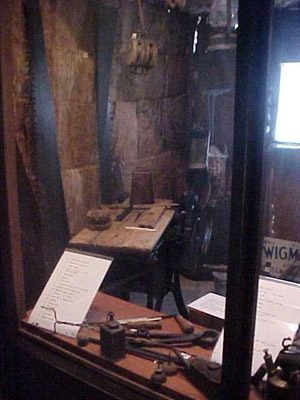 Description:
A large collection of various tools and paraphernalia that were used by early settlers in the Wanneroo area. Displayed in a paper, bark and bough replica shed.
Garden tools - seeder
Seed Sower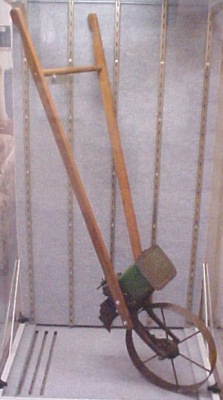 Description:
Two handled seeder operated by one man, sowed seeds in hills at regular intervals and covered in sequence. Seeds dispensed from metal casing.