Geraldton Regional Art Gallery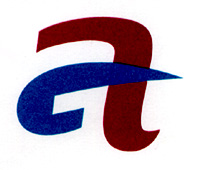 Built originally as the Town Hall in 1905, the Federation Academic Classical architectural style of the Geraldton Regional Art Gallery is reflective of civic buildings built throughout Western Australia in the post gold rush days. In 1984 the Town Hall was saved from demolition and converted into an art gallery. A second floor was added internally and appropriate environmental and security systems installed. In 2001 a lift and wheelchair access toilet were added. The building is located in the heart of the CBD with high visibility to local and visiting populations. It hosts some 24 exhibitions to around 15,000 visitors per year.
Address:
24 Chapman Road, Geraldton, WA
Hours:
Sunday and Monday 1.30 - 4.30pm, Tuesday to Saturday 10.00am - 5.00pm. Closed Christmas Day and Good Friday.
Facilities:
Seven galleries, gallery shop, education, workshop and access tours available, arthouse cinema - video paradiso.
Collection:
In 2002 the City of Geraldton Collection numbered 374 works. The visual arts culture in Geraldton is dynamic and acquisitions are often made from exhibitions by local artists according to the City of Geraldton Collection policy.
Included in the collection are 50 works by Western Australian artists donated by Sir Claude Hotchins in 1948.
In 1960 the Town of Geraldton commissioned Elizabeth Durack to do a series of 100 drawings of Geraldton and surrounds. The ninety remaining, quirky, drawings provide a valuable historic and artistic record of the town as it once was.
In 2001 the Gallery received a bequest of 64 Norman Lindsay works. Dated from 1889 to the 1960's this extraordinary collection includes works on paper and sculptures.
Items
Sketch
The Fisherman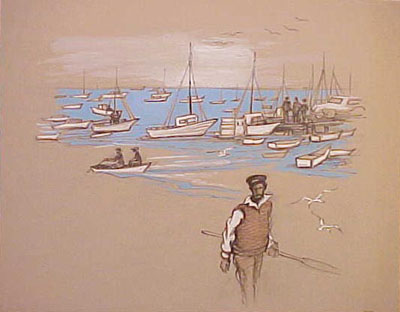 Creator:
Elizabeth Durack
Description:
Elizabeth Durack CMG OBE Hon D Lit (UWA & Murdoch) was born 1915. She is the sister of Dame Mary Durack. Her work was first exhibited in 1946.

In 1960 Elizabeth Durack was commissioned by Municipality of Geraldton to produce a series of works around the town and district. About 110 sketch drawings were submitted for this commission. Working on grey paper and drawing directly with a black felt pen, Durack has depicted a fisherman, likely Italian, returning after a day's fishing. He is carrying a single oar as was customarily used to scull their clinker built dinghies ashore. As shown in the background the sculling oarsman sits in the dinghy facing backwards, his companion sits in the bow. This scene captures the long since disappeared West End of Geraldton Harbour, where the fisherman moored boats in deeper water then rowed themselves ashore. The West End has now become part of the expanded Port facility while oars have been superseded by engines.

Durack has complimented her black pen with white gouache and light watercolour to bring the picture to life. Elizabeth Durack is a true Western Australian maverick and in her broad field these Geraldton district works are unique. The drawing is fluid and direct. In the body of the works is an immediacy that is due to the permanence of drawing with a felt pen. When these tinted drawings were done a felt pen was a totally new medium which quickly ran out or went dry. Durack incorporates these facets into her drawings.
Durack was commissioned by 12 Shires to do similar series. This set is the only series of local government works to have survived relatively intact as 90 works remain in the City of Geraldton Collection.
Painting
Still Life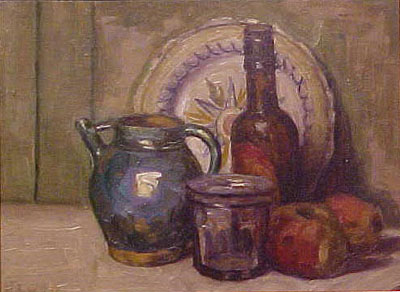 Creator:
Kathleen O'Conner
Description:
Kate O'Connor arrived in Western Australia (WA) in 1891 from New Zealand. Her father was C.Y. O'Connor, the famed engineer of early WA's major civil engineering works. Kate O'Connor is a significant early WA artist. However, this must be balanced with the fact that she lived most of her adult life from 1905 in Europe. O'Connor had several prolonged returns before finally settling back in WA in 1955. This picture is a gift to The Municipality of Geraldton by Sir Claude Hotchin and is the most significant work of Geraldton's Hotchin Bequest. Restoration work was completed by Glyde Gallery in Perth during 1998.

It is typical of the large number of still life paintings completed by O'Connor during her time in Paris. Throughout her long life O'Connor painted in a number of styles. This is understandable when one considers that she was exposed to the avant garde impressionist and the post impressionist activity and thought in Paris. This picture is quite stark and a rigid composition in comparison to the colour and light of her bolder flower still-life works. The rigidity of this picture is perhaps reminiscent of a student work, a plate, bottle, jug, vase and two fruits. Notwithstanding, the eye is drawn into this apparent simplicity by the empirical composition of circle and triangulation eased by the soft roundness of the fruits. The intriguing thing about this picture is that it has another finished picture of a girl in the Luxembourg gardens on the other side of the board. Although this picture was acquired or donated in 1959 this is most probably not the date of its painting.

Recent critical review of the work of O'Connor has led to increases in the value of her work, especially in light of her contact with French modernist schools between 1905 and 1947.

Claude Hotchin was pivotal in the career of O'Connor having encouraged her to return to Australia and then welcoming her back to Perth society after WWII. His support of O'Connor led to her increased fame and celebrity status in the Australian art world until her death in 1968.
Sculpture
Lost Ambition, Geraldine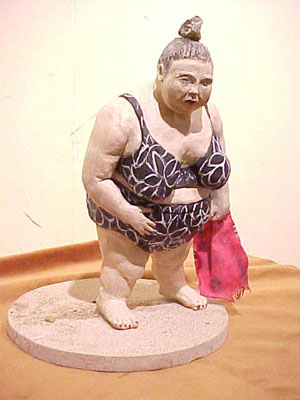 Description:
This work was purchased from the exhibition Different Dreams, which was the first exhibition held in the Project Gallery of the Geraldton Regional Art Gallery.
At that time Kate was a lecturer in visual art at Edith Cowan University Geraldton campus. She trained at the University of Tasmania where she completed her Masters in Sculpture in 1992.
This work looks at the comical side of beach culture in Australia, this being especially pertinent to Geraldton with its strong beach lifestyle.
Larby here pursues the notion of showing people exactly as they are to breakdown notions of refined and diet driven beauty.
Geraldton, Western Australia
Painting
The Last Goodbye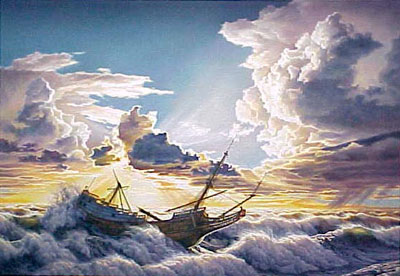 Description:
This historical painting captures the wrecking of the Dutch East Indies "Batavia" in 1629. The ship floundered on the shoals of Beacon Island in the Abrolhos Islands, 60 km west of Geraldton.

Ailsa Small, Mid West artist, invests this subject in a curious light which enhances the mystery and tragedy around this fatal grounding. The forlorn ship is bereft, masts broken and tumbled, pummelled relentlessly by breakers, not a soul or living thing in sight. In the background a glorious sunset is breaking through clearing storm clouds. This brilliantly coloured painting is finely handled in Small's familiar fluid but mature style.

Ailsa Small was born in 1931 at Challymenda, a small farming community 40km east of Mullewa in the Mid-West of WA. Her father, who painted when not farming, taught her to paint. Ailsa entered the first Claude Hotchin Art Prize in 1948. She won this prize in 1961, 65, 69 and 70. A strong adherent to realism, Small declined an offer of an overseas art school scholarship because she did not want to change her style. Ailsa Small's paintings reflect her country and the Mid West landscapes. Excellent examples of her landscape oeuvre capture the rugged countryside around Small's property, Tallering Peak, in the Murchison region of WA.

Works by Small are held in WA regional, state, national and private collections. She has had several solo and retrospective exhibitions, one of which was held at Geraldton Regional Art Gallery in 1991.
Collection
Description:
The City of Geraldton Collection includes 64 works by Norman Lindsay dating from 1889 to the 1960s. This collection includes drawings, paintings, etchings and sculpture.