Bridgetown Historical Society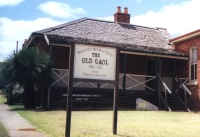 Archival facility and Photgraphic collection, old Gaol building. Bridgetown population 4,000. 270km south of Perth.
Bridgetown is one of eight heritage listed towns in Western Australia. Historic work panphlet is available.
Address:
158 Hampton Street, Bridgetown, WA
Hours:
By appointment through the Tourist Bureau
Collection:
900 old phtographs of Bridgetown area. Written achival information and locally produced fistoric books. Access to oral histories.
Items
Building
Old Gaol
Description:
Bridgetown Old Gaol, with police quarters attached. The Gaol ceased operating in the seventies when a new police station was opened. The Bridgetown Historical society undertook restoration in 1992.
Bridgetown Gaol, Western Australia