Braidwood Museum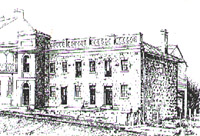 The museum is in a granite 2 storeyed building - the Royal Hotel 1845. It was owned by surveyor James Larmer who accompnied Mitchell on exploration trips and surveyed all the South East of the colony. The building was bought by Grand United Order of Oddfellows in 1882 and two large halls were added for meetings and balls. It is situated in the main street of Braidwood, a National Trust town. There is a speaker or excursion each month, an annual dinner in June.
Address:
186 Wallace Street, Braidwood, NSW
Hours:
10am-4pm Friday - Monday (7 days during school holidays)
Admission:
Adults $3.30, Children 60c
Facilities:
Wheelchair access downstairs, shop, library, guided tours, school tours, meeting rooms and lecture hall, genealogical research service
Collection:
2100 artefacts, 900 photographs are of local origin. A unique attraction is the Nomchong collection. This family were traders in the town from 1870 - 1990s. The Museum also features a machinery shed and other rural items displayed in the grounds. A library of local records newspapers and family histories can be used for research by appointment and for a fee.
Items
Movable Gaol
Log Lock-up
Creator:
NSW Police Department
Description:
Square hardwood horizontal log construction with corrugated iron roof. No nails used. 262mmh x 354mml x 350 mmw. Barred window
Brought from Mongarlowe police residence site (Little River Goldfields) in 1975 and re-erected in grounds of Braidwood Museum
Press
Cider Press
Creator:
Made in Somerset UK, 1868 by A. Day
Description:
Apple disintegration and press in 21 parts. 1.17mh x 1.24 ml x 0.71mw.
Used in Mayors Creek 1870-1900 by Wilton family, selectors of land adjacent to the gold fields.
Wedding dress
Chinese Wedding Dress
Creator:
Mary Boo Jung Nomchong
Description:
Skirt and long jacket. Silk damask of blue, green and pink panels hand embroidered. Made in China 1887.
Item Id Number:
93-163-a, b
Silk made from silk worms on bride's farm. One slipper accompanies dress. Part of the Nomchong collection of artefacts. Nomchong descendants are still in the district.
Painting
Description:
Oil painting. First land sale in Braidwood (1840) 1.47 x 1.90
Bought by W.D. Gordon of Manar at auction of furnishings of Albion Hotel in 1934. Presented by W.D. Gordon to the literary institute. Presented to the Historical Society by Tallaganda Council in 1970's
Instrumentation
Surveyor's circumferenter in leather case pre dates theodolite
Creator:
Negretti and Zambra, London
Description:
Surveyor's circumferenter in leather case. Pre-dates theodolite
Item Id Number:
94-250 a,b,c,d
References to a circumferenter in correspondence of first surveyors in Braidwood District 1824-1850, one of whom settled and died in the town