Morawa Old Police Station Museum
Local shire history from the period of the shire's establishment. Previous to that the general pastoral history of the area is collected including a comprehensive base history. The emphasis is agricultural and social and includes the four other small towns which existed in the area. We are starting to set up a virtual identity by making our library available over the internet
Address:
Cnr Prater an Gill Streets, Morawa, WA
Hours:
11am-3pm Fri during the tourist season, and on request
Facilities:
Reference library, local history, guided tours.
Collection:
Strengths are local community archives and objects collected locally. A new focus is on Australian Windmills and about 30 have been collected, with 9 so far put on display and a substantial archive commenced.
Items
Automatic Windmill Shutoff
Creator:
Unknown (possibly Metters)
Description:
One of several units offered by various Australian windmill manufacturers. Its invention was to automatically turn the windmill on and off as the water level in the storage tank dropped or filled. (may not have been actually manufactured by Metters)
Post Drill
Model 408

Description:
One of a series of post drills made by Globe. Lightweight model with grub screw church to fit half inch shaft bits. Ratchet advantage via cam on main gear. Single gear ratio. Moveable platform.
Windmill
Metters 'K' Windmill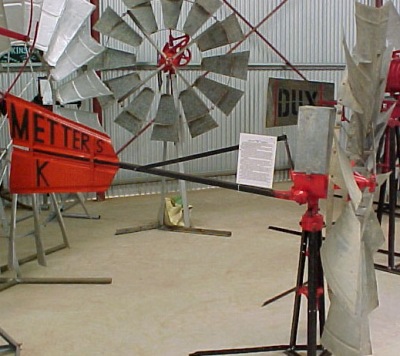 Description:
One of Australia's largest manufacturers of Windmills. This model in various sizes was dominant in many parts of Western Australia and probably South Australia in its time. Still been in working condition. It's derivative of the Metters 'Type M' and is still available as the "Yellowtail".
Windmill
Webb Type S 6 Windmill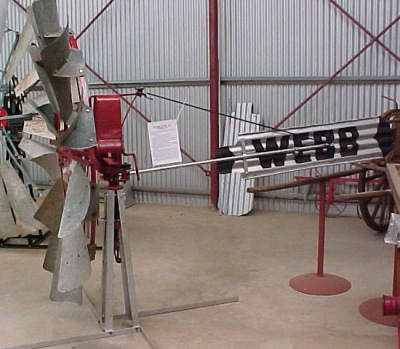 Description:
One of Australia's larger manufacturers and producers of quality windmills. The type 'S' is an oil bath, geared slipper type design. The Webb company is also interesting because of the importance railway contracts for steam train water points played in it's sales.
Windmill
Defiance 8 Windmill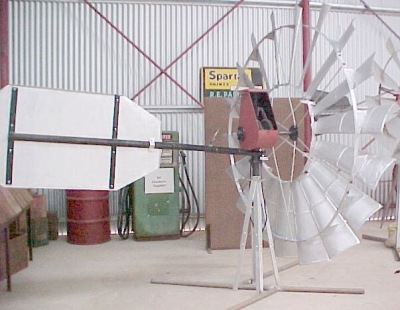 Creator:
Harris Scarf and Sandovers
Description:
Fairly early example of a welded gearbox windmill. One of a family of designs by Roy Robins. Unfortunately came on the market and virtually the same time as similar designs by southercross and metiers ect.