ACT Heritage Library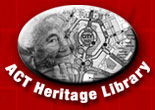 The mission of the ACT Heritage Library is to collect, preserve, and provide access to the documentary heritage of Canberra and the ACT region. The library collects materials relating to the history and development of Canberra and the wider ACT region.
Address:
Level 2, Woden Town Centre Library, Corinna Street
Corinna Street, Phillip, ACT
Hours:
Tuesday - Thursday 10:00am - 12:00noon & 1:00pm - 4:30pm. First Saturday of each month 10:00am - 2:00pm.
Facilities:
Materials collected by the ACT Heritage Library are accessible via the ACT Public Library catalogue.
Materials in the ACT Heritage Library are not for loan. They can only be viewed in the ACT Heritage Library during its opening hours. Photocopying facilities are available.
Collection:
The ACT Heritage Library was officially opened in 1995 but its collections have been developed since the early 1970s. Today it has an extensive collection of materials including: over 15,000 catalogued items; around 20,000 photographs; maps and architectural/engineering plans; books, newspapers, magazines and journals; ephemera such as programs, brochures, and flyers; government publications, pamphlets and brochures; archives and manuscripts donated by local people and organisations.

The heritage library has several collections of special note. These include:

ACT theatre programs from the 1920s through to the present; telephone books and electoral rolls relating to the Canberra region from the 1960s to the present; photographs from the Department of the Capital Territory from the 1950s until the early 1980s.