Dungog Historical Museum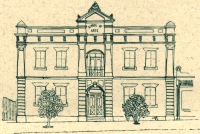 The Society was formed in 1963 and since 1968 has opeated a museum in the former School of Arts building, which is heritage-listed. The purpose of the Museum is the collecting, preserving and interpreting of local heritage for everyone. The Society aims to promote local history, including family history and the Museum collection, to the local community and the general public.
Address:
105 Dowling Street, Dungog, NSW
Hours:
Sundays 1pm-4pm or by arrangement
Admission:
Adults $2, children under 12 $1, families $4
Facilities:
Guided tours of the museum. Assistance with research inquiries or by correspondence.
Collection:
Dungog Museum has a wide range of items representing local and family history. The collection reflects the area's rural history, including dairying and the timber industry, and local manufacturing including items from Wade's Cornflour Mill, Dungog. Domestic items include household items and a photographic collection.