Museum of the Riverina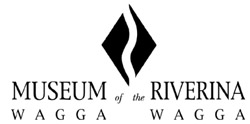 The Museum of the Riverina has two impressive sites. The first is situated in the former Historic Council Chambers, built in 1881, and converted in 1998 to function as a museum facility. This site is used as a meeting venue - in the former chamber - and as a venue for hosting a regular program of travelling exhibitions.
The second site, adjacent to the Botanic Gardens, was formerly run by the Wagga Wagga & District Historical Society, and opened in 1965. The site was renovated and reopened in September 2001 and contains internal exhibitions and a number of outbuildings. The newly renovated displays include the Wagga Wagga Sporting Hall of Fame, an Aboriginal section and a general Wagga Wagga local history section.
Address:
Site 1: Cnr Baylis and Morrow Streets, Site 2: Baden Powell Drive, Wagga Wagga, NSW
Hours:
Tuesday - Saturday 10.00am - 5.00pm, Sundays 12.00noon - 4.00pm. Closed Mondays, Good Friday, Christmas Day, Boxing Day and New Year's Day.
Facilities:
Venue for travelling exhibitions and meetings.
Collection:
General local history collection including buildings removed from other sites eg schoolroom, post office, pioneer hut and printery. A feature of the Botanic Gardens site is the Wagga Wagga Sporting Hall of Fame which includes 65 individuals who have represented Australia.
Items
Swimsuit
The Wagga Beach Life Saving Club (WBLSC) Swimsuit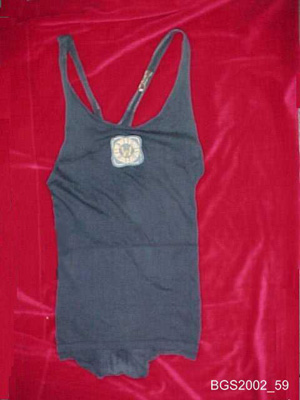 Creator:
Speedo Australia
Description:
The Wagga Beach Life Saving Club (WBLSC) was an elite band of men (and women - during wartime!) who patrolled Wagga Bathing Beach for approximately forty years. The club came officially into being on or about 24 July 1927, and closed its doors in 1973, due to a lack of qualified patrolmen.

The one-piece Speedo swimsuit was worn by Wagga resident Eric Carpenter, who was an active member of the Wagga Beach Life Saving Club between 1946 and 1951.

The swimsuit is of historic significance for various reasons. As an object, it is well-provenanced - one of several objects within the BGS collection belonging to the same owner (including at least one image of Eric wearing the swimsuit). Eric Carpenter was Wagga-born and bred, living there for his whole life with the exception of three years spent in the navy during World War II, so there is a strong local connection. The swimsuit also celebrates the fact that a regional inland centre had such a strong lifesaving force (something usually associated with coastal areas), and that in the history of the WBLSC there was not one fatality whilst a patrolman was on duty.
Item Id Number:
BGS2002.59
Doll
"Prattie" artist doll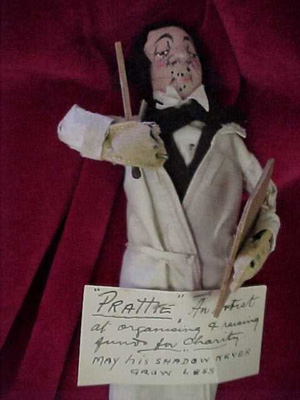 Creator:
Michael Patrick Loth
Description:
French artist doll named "Prattie" made by Michael Patrick 'Mick' Loth for his friend Cecil William Pratt in 1932, as a whimsical gesture of appreciation for charity work undertaken by the latter. Both Mick Loth (left) and Cecil Pratt (right) are well-known identities in the Wagga district. Both men contributed largely to the town - Mick through his tireless work within the Ambulance Service, and Cecil through his charity work and involvement in the refreshment industry and café ownership. This doll, handmade by one man as a personal gesture for a second is a unique item reflecting the friendship between two men, and is of historic significance as it reveals the personal side of a very public man.
Cast iron paperweight
Wagga Bush Baby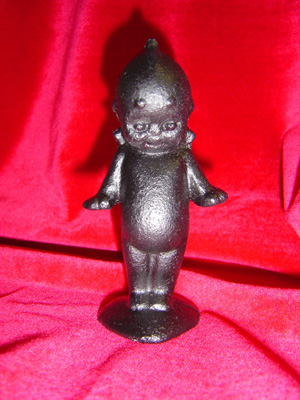 Creator:
The Wagga Iron Foundry, Hammond Avenue, Wagga Wagga
Description:
The origins of the Wagga Iron Foundry go back to 1913 when a Riverina blacksmith began casting parts for agricultural machinery behind an engineering works in Wagga Wagga. The foundry grew, and was succeeded by several owners who worked through the Depression and both Wars keeping the small business operating for the local rural community. One owner was a Wagga man called Mr. Lamprey. He became famous by casting himself aluminium teeth. He wore them for years - a credit to his foundry skills and marketing flair!

In 1939 a Melbourne-born moulder called Jack Hanks bought the foundry and built up a solid business casting plough shears, gears and sprockets. In 1962, he was joined by a partner, Robin Lindsay who carried on the business until 2002. The Wagga Iron Foundry still maintains traditional moulding skills that have made them famous for excellent heritage castings.

The Museum of the Riverina is aiming to collect contemporary items from Wagga Wagga, the first of which was this cast iron paperweight, in the form of a kewpie doll. Marketed as a "Wagga Bush Baby", it is manufactured in a mould, front and back. The baby stands on a heart-shaped base, and is painted a range of colours when finished. The history of this item is shrouded in mystery, but it is a popular souvenir item still being manufactured today.
Item Id Number:
BGS2003.176
Delivery bicycle
Huthwaites grocery delivery bicycle
Description:
Huthwaites grocery delivery bicycle used by Charlie Blackburn, c. 1940s. W.G. Huthwaite & Co. Pty. Ltd. was billed as "The Friendly Store - a big business built up on big values". Established by William George Fitzroy Huthwaite in 1906, the store survived two world wars and the Depression, standing by its customers throughout drought and flood, to become firmly entrenched as one of Wagga's best known and loved stores.

The Huthwaites delivery bicycle is the only one in existence (Huthwaites only ever had one made). It is representative of grocery delivery bicycles of the 1940s, harking back to gentler days when door-to-door deliveries were commonplace. The bicycle also symbolises the importance Huthwaites placed in advertising. The bicycle specifications included both the advertising panel with their logo "The Friendly Store" and also the deliberate choice of eye-catching bright red paint for the frame.

The Huthwaites bicycle has historic significance as it may be the only grocery delivery bicycle connected with a Wagga firm which has survived intact. It is a provocative artifact from one of the most successful businesses in Wagga which has now been relegated to the ranks of one of the city's vanished landmarks.
Item Id Number:
BGS2002.316
Postcard
World War 1 postcard
Creator:
"Patriotic Series" postcard made by the Inter-Art Co., London.
Description:
Within the Museum of the Riverina's war collections, there are few documentary artifacts which provide the above-mentioned window into the mind and heart of the soldier. This postcard sent to Miss Ethel Mary Smith in the opening stages of the war is both provocative and poignant, a bold (and physical) expression of the writer's fears, emotions and his acceptance of wartime conditions: "its duty first in this game."

Patriotic cards are not necessarily rare within museum collections. The inherent value of this example lies in the inscription on the verso. The author of the card we know only as 'Billy'. In such anonymity, he can be seen to represent the unidentified, faceless mass of soldiers who fought in the Great War. Many of these men and women were not immortalised and have been largely forgotten.

This postcard is of historic significance as it allows the reader an insight into the very private feelings of a young, inexperienced soldier, who may have been away from his home, family and friends for the first time in his life. Although the First World War was fought on the other side of the world, it had a dramatic impact on the people of Wagga. Billy's postcard reveals the effect of wartime on both soldiers and those loved ones they left at home.

"They [propaganda postcards] are not merely snapshots of a world at war. They are virtual windows into the minds and hearts of the millions who fought that war"
J. Kasonovich and P. Hageman, 'Propaganda Postcards of the Great War'
Item Id Number:
BGS2002.207