Eumundi Historical Museum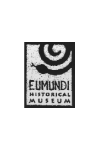 The museum represents the social and natural history of Eumundi through displays and historical documentation. The museum has digitised it's photographic collection and provides access to these images through a computer situated within the museum. Further records are added regularly. The museum is situated in the former Methodist church, built in 1911.
Address:
78 Memorial Drive, Eumundi, QLD
Hours:
10am-4.30pm Wednesday and Friday, 9am-3pm Saturday, 9am-1pm Sunday.
Facilities:
Wheelchair access, guided tours, education programs, brochure available, photographic library.
Collection:
300 objects, 200 natural history specimens, 2 500 photographs. The Eumundi Historical Museum contains social history collections, family history documentation, a comprehensive natural history collection and an extensive collection of historical photographs relating to Eumundi and the surrounding area. A map collection covers the period 1890 to the present.
Items
Horse-Drawn Vehicle
Queensland Buckboard
Creator:
G. Adams, Eumundi
Description:
Queensland buckboard made by George Adams in his coachworks in Eumundi.
The only surviving example of horse-drawn vehicle made in George Adam's Eumundi workshop.
Book
Bank Signatures Book
Description:
E.S & A Bank signatures book, 1909.
One of two surviving bank entry books, from the E.S & A Bank Eumundi, contains signatures of early settlers used as specimens for accounts.
Book
Bank Authorisation Book
Description:
E.S. & A Bank Authorisation Book.
One of two surviving bank entry books from the E.S & A Bank Eumundi - Contains account authorisation documents.