Quilt No.1006JC - Josephine Curtis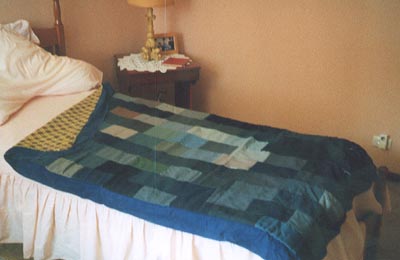 Description:
Taylor's sample quilt made from men's suit swatches, mainly greys and blues. Edging is 6cms wide, of blue flannelette. Padding is an old grey blanket, and the backing is of printed pattern corduroy. 1680 x 920 mm.
History:
Quilt was made by Mrs Valencia Venn in Glenbrook, in 1960. It was then owned by Mrs M Rowe (born Curtis), and is now owned by Mrs Josephine Curtis, daughter of the maker.
Story:
"The quilt shown in the enclosed photograph was originally made by my mother Mrs Valencia Venn (born 1892 died 1985) from the material pieces of men's suit swatches in 1960. The swatches came from her nephew's menswear shop which was situated in Liverpool NSW.
Mrs Venn was handicrafts officer of the Glenbrook branch of the CWA for many years.
Mrs Venn was a busy seamstress whose main work was making ballet tutu's for the Sydney Royal Academy of Dancing, and also stage costumes. She also started the CWA Handcraft classes in Glenbrook NSW.
Apart from this quilt two others were made for her grandchildren. All of these quilts were well used over the ensuing years." [Josephine Curtis]
The swatches came from Ingall's Men's Centre, 51 Scott Street, Liverpool NSW.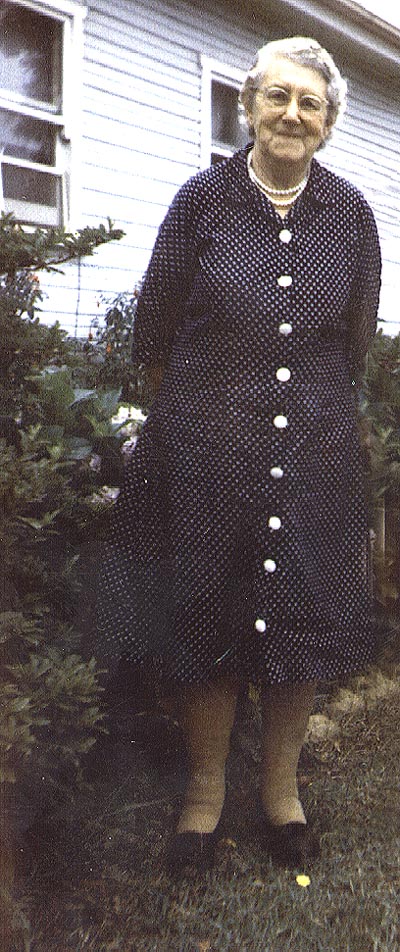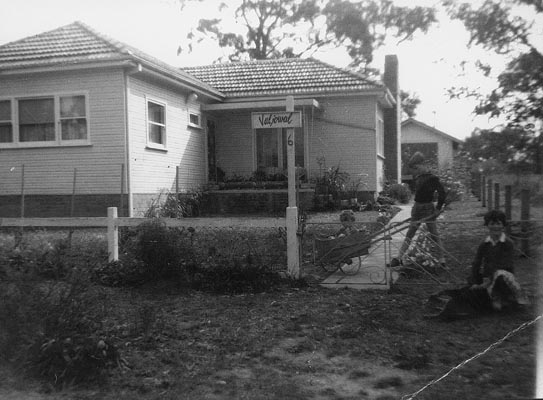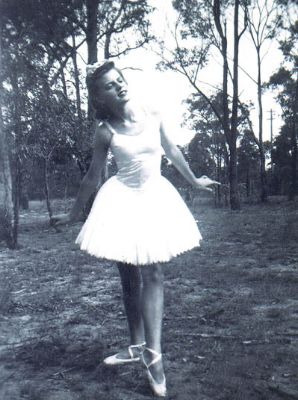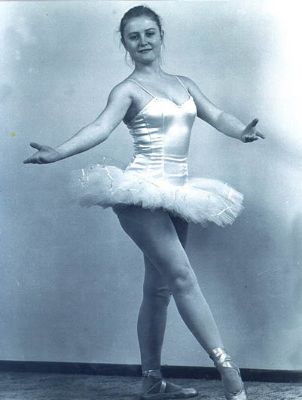 Related Quilts:

Suffolk Puff quilt with puffs mainly in patterned cotton pieces saved from 60 years of household sewing. Puffs are formed into rosettes and the holes are on the top making a decorative feature. It is hand sewn.
2700 x 2400mm.

American quilt in 'Dresden Plate' pattern. Hand stitched, Wide variety of cotton materials used in plain and patterned materials. The backing is cream cotton. It is hand quilted. This quilt was made from an American McCalls pattern consisting of transfers for the pieces and for the quilting design.
2400 x 1700mm

Wholecloth quilt with both sides of floral cotton. The padding is thought to be hessian bags.
2060 x 1300mm

Double bed patchwork coverlet of pieced blocks in a pinwheel or dresden plate pattern of prints on a cream ground, each block with a 1 3/4" border or sash. Each pinwheel has 10 pieces, and the quilt is constructed 8 blocks by 6. Cotton fabrics are in florals, checks and stripes, in blues, greens browns, pinks, purple. The quilt was in poor repair and has been reduced in size. Conservation work has been done by the State Conservation Centre.
Backing or filling unknown.

9 large blocks of crazy patchwork in silks and velvets. The blocks are divided by strips of deep ruby coloured silk. There is a wide ruby border with peaks to which is attached cream lace. The backing is beige silk. The main blocks are outlined with feather stitch in gold thread and many individual patches are outlined in fancy stitches and have embroidered motifs some of which are Australian eg centre patch has Sturt's Desert Pea flowers, parrots, wattle. There are also English flowers, Japanese motifs, flags, domestic objects and Marianne's initials. Embroidery is in a variety of threads including chenille.
2250 x 2180mm

Crazy patchwork quilt made from silk and cotton fabrics, in patterns and plains, in bright colours. Patches are arranged around a central diamond shaped patch in yellow which is bordered with light blue. All seams are covered with featherstitch and herringbone stitch. Patches were stitched onto a calico backing. A recent calico backing ahs been added and dark blue binding attached to the edge. No padding.
1555 x 910mm