Quilt No.1006JC - Josephine Curtis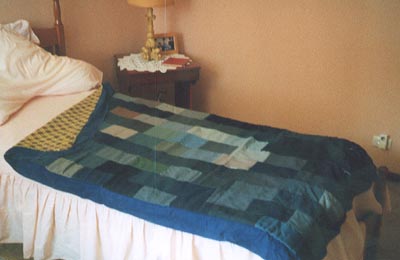 Description:
Taylor's sample quilt made from men's suit swatches, mainly greys and blues. Edging is 6cms wide, of blue flannelette. Padding is an old grey blanket, and the backing is of printed pattern corduroy. 1680 x 920 mm.
History:
Quilt was made by Mrs Valencia Venn in Glenbrook, in 1960. It was then owned by Mrs M Rowe (born Curtis), and is now owned by Mrs Josephine Curtis, daughter of the maker.
Story:
"The quilt shown in the enclosed photograph was originally made by my mother Mrs Valencia Venn (born 1892 died 1985) from the material pieces of men's suit swatches in 1960. The swatches came from her nephew's menswear shop which was situated in Liverpool NSW.
Mrs Venn was handicrafts officer of the Glenbrook branch of the CWA for many years.
Mrs Venn was a busy seamstress whose main work was making ballet tutu's for the Sydney Royal Academy of Dancing, and also stage costumes. She also started the CWA Handcraft classes in Glenbrook NSW.
Apart from this quilt two others were made for her grandchildren. All of these quilts were well used over the ensuing years." [Josephine Curtis]
The swatches came from Ingall's Men's Centre, 51 Scott Street, Liverpool NSW.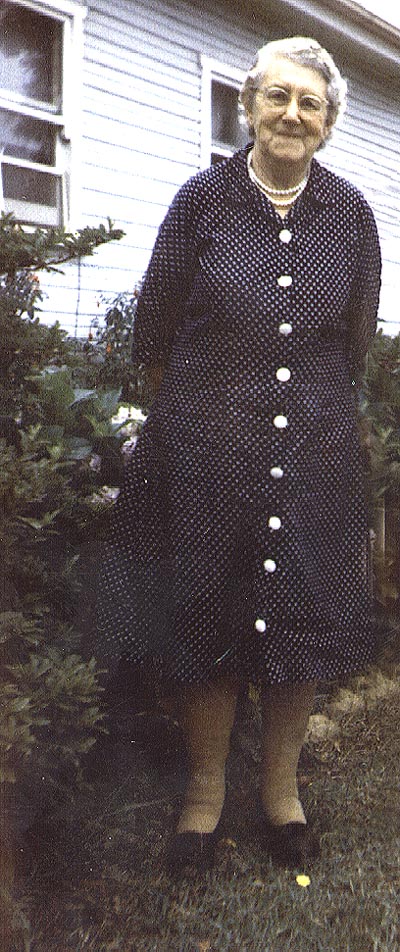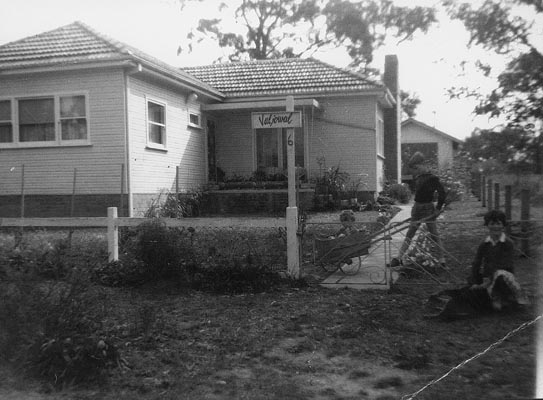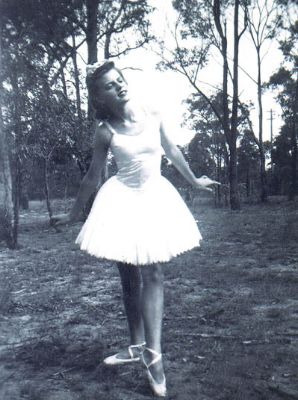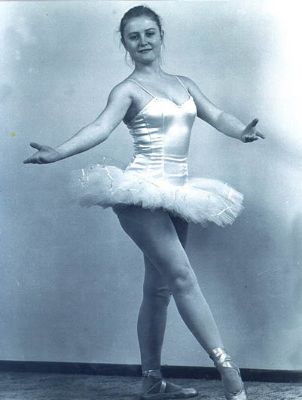 Related Quilts:

Patchwork quilt made from hexagon patches in silks and rayons, in pinks, blues, red, yellow mainly, with pastels. No padding. Bordered and backed with green satin.
1829 x 1372mm

Patchwork quilt made of approx. 730 Suffolk Puffs, using mainly cotton materials in florals and plains. Each puff is 45mm diameter. The quilt centre has a square of 16 pink puffs outlined with a single row of blue puffs. Each corner of the quilt has a square of 9 puffs in a single colour. No padding. Quilt is edged and backed with a red and white tartan cotton.

Red and white cross stitch quilt. Central white panel with red cross stitch embroidery featuring flowers and leaves. Red panels as borders with white embroidery, also flowers and leaves. Machine pieced. Hand quilted in an espalier pattern. There is a fine padding and the backing is homespun. 2200 x 1970mm
Dresden plate quilt with pointed pieces set around a white centre. Fabrics are checks, floral patterns and plains of the 1930s. The twenty blocks are sashed with plain mauve fabric which does not meet evenly in some places. The padding is two layers of cotton bedspreads. The backing is open weave rough quality cotton.
1860 x 1550mm.

Patchwork quilt. All cotton with cotton filling. Entirely made of hexagons, patterned and plain. 6 hexagons surround a central one. Colours, red, blue, yellow and white. Hnad stitched and hand quilted.
2108 x 1702mm

Patchwork quilt made from squares of cotton fabrics, from curtains, left over from dress making projects, and new fabrics. Colours are bright primaries and some pastels, prints are checks, florals, stripes and plain. Pieces were stitched together without any particular order. No padding or quilting. Backing is a cotton bedspread in turquoise and blue stripes.
2520 x 1600mm