Quilt No.475GW - Glenda Wilkinson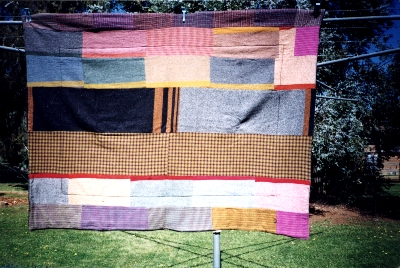 Description:
The quilt consists of 2 layers of random pieces of woollen coating and suiting materials machined together, very dark colours on one side and a mixture of dark and lighter on the other. The 2 layers are quilted together with a row of machining and has a folded and machine stitched edge. There is no padding.
1270 x 950mm
History:
The quilt was made by Miss Olive Budden who lived at the "Strathallen Home for the Aged" in Macleod, Melbourne in 1965. Olive Budden gave it to Glenda Wilkinson, the present owner.
Story:
"Miss Olive Budden, maker of this quilt, had access to offcuts from a coat factory. She made scores of quilts from these and took great pleasure in giving them to her friends and acquaintances. This was given to me for my children to use as a "car rug" in the days before cars were heated."[Glenda Wilkinson 21.10.98]
Related Quilts:

Hand pieced hexagon quilt in pattern known as 'Grandmother's Flower Garden". 12 hexagons, in patterned cottons, form the outer border of each flower with an inner border of 6 matching plain coloured hexagons and all flowers have a yellow hexagon centre. There is no padding, a cotton backing and it is hand quilted.
2400 x 1780mm.

Patchwork quilt, all cotton including cotton padding filler. The design is 'Dresden Plate' or 'Friendship Circle'. Background is white with multicoloured and patterned triangular pieces forming circles. Hand stitched and heavily quilted.
2235 x 1778mm

This quilt has been strip pieced with no regular pattern. It seems a large quilt has been made then folded in half. The materials used are woollen skirting pieces in a variety of colours. It could be used either way. There is no padding and it is very heavy.
2100 x 1950mm

Medallion style all cotton quilt made in the USA. Hand pieced with centre panel of 'cheater' material pre printed in a patchwork design. Bordered with 'Nine Patch' and sashing. The backing is printed cotton and the padding is cotton. The quilt has yellow tufting or ties in wool.
1855 x 1525mm

Patchwork quilt made from brightly coloured printed cotton fabrics in hexagon patches hand sewn together in rosettes, and stitched by machine onto a border of green moire taffeta. No padding. Backing is green cotton satin curtain lining. There is a matching pillow sham.
2591 x 2540mm

Utilitarian quilt. The padding is pieced used clothing and possibly reused blanket. The top and backing are machine pieced cotton scraps in a wide variety of pattern and colours.
1626 x 1601mm