Quilt No.1012LB - Lora Busellato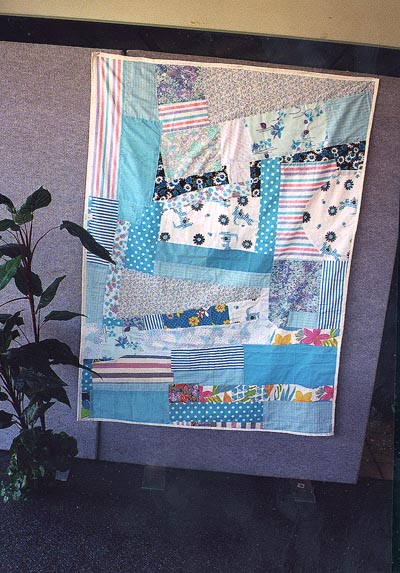 Description:
Machine pieced cotton quilt, in random design of geometric pieces. Materials used are cotton sheeting, dress fabrics, broderie anglaise, and seersucker. There is no padding, and backing is white curtain lining.
1540 x 1150 mm.
History:
Purchased by the present owner for $8 at an op-shop, July 2001. It is not used.
Related Quilts:

Quilt in pattern known as 'double weeding ring'. All cotton, using old prints, plaids, checks and solid colours, with plain blues and red squares at the intersections of the circles. White background. Hand pieced. Padding is Hobbs Heirloom: cotton 80%, polyester 20%. Backing is cream quilted cotton. 2500 x 2100 mm.

Patchwork quilt made of rectangles of woollen fabrics from dressmaking projects. Pieces have been stitched together in no particular order. Colours are predominantly dark red and light grey, with some green, pink and blue. Fabrics are plain, checks and weaves. No padding or quilring. Backing is yellow curtain fabric.
2200 x 1100mm

Patchwork quilt in Log Cabin pattern made from silks, velvet, cottons and taffetas, in prints and plain, around a centre squares of black velvet. Colours are, in the dark sections, blues, greens, browns, yellow and pinks. The base of the blocks is blue and white ticking. The padding is probably cotton. Backing is of green cotton. There is an attached frill on all sides of green cotton, faded to dull light brown.
1630 x 1350mm

Patchwork quilt made from pure wool suiting samples in shades of navy blue and brown. Quilt is constructed in 11 rows containing 11 pieces. Each piece is 14cm x 9cm. No padding. Backing is of mauve cotton with a floral pattern of closely spaces white/pale mauve flowers.
1480 x 900mm

Double sided square quilt. One side is a crocheted rug. The centre of this is 4 triangles joined and from this coloured bands in crochet radiate out to the border. The other side is randomly pieced scraps of mainly woollen material in checks, plains and tartans. Machine construction.
1600 x 1600mm

Cotton quilt of pieced hexagons and some diamonds made for a baby's basket. Colours are mainly blue and pink and two 'Punch and Judy's' are appliqued in the centre. There is no padding and the backing is a cotton floral in blues and greens.
760 x 660mm