Quilt No.1012LB - Lora Busellato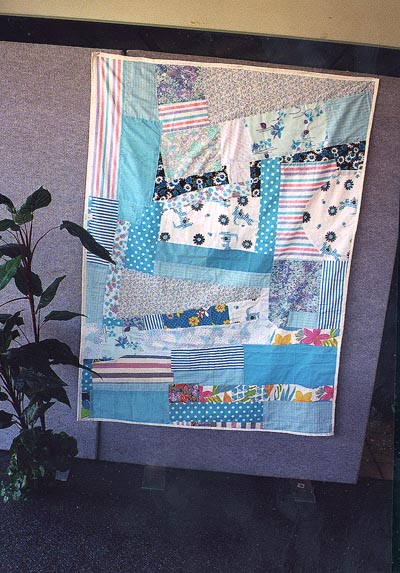 Description:
Machine pieced cotton quilt, in random design of geometric pieces. Materials used are cotton sheeting, dress fabrics, broderie anglaise, and seersucker. There is no padding, and backing is white curtain lining.
1540 x 1150 mm.
History:
Purchased by the present owner for $8 at an op-shop, July 2001. It is not used.
Related Quilts:

Quilt with centre area of silk triangles framed with small squares and the rest of the top is larger squares. Wide variety of prints and plain materials. There is no padding. The backing is cotton and "E.M.B." is cross stitched in one corner. "Back is interesting as it's all the same fabric, joined but it appears to have been stitched with a running stitch (cf quilting) before it was attached to the front. It was definitely done after being joined as the stitching design follows through the seams." [Fran Williams]
2500 x 2500mm

Randomly patched quilt in many different colours and fabrics. There are appliquéd shapes over many pieces including Suffolk Puffs, hearts, hexagons and other shapes. There is an embroidered inscription "A11 to S11 1829" which is thought to mean AN to SN 1829. There is no padding and the backing is white cotton.
2000 x 2200mm

Quilt made of 26 x 13 rectangles of woollen men's suiting samples. Each rectangle is about 70 x 130 mm. Wide variety of patterns, mainly stripes, and colous. The padding is part of a worn cream blanket and joined pieces of woollen clothing. The backing is a well worn piece of brushed cotton. Machine made.
11900 x 1870 mm

Quilt top of hexagons in silks and satins, pieced over papers in the English tradition. Some paper templates still in place. One states: 'Semi - Monthly Regular Clipper packets to New Zealand, Port Phillip, Sydney�2nd of each month..Adelaide' suggesting it may have been from a shipping timetable.
1580 x 1830mm

Patchwork quilt made from rectangles and squares of woollen fabrics from dress making projects. Colours are mainly grey, blue, brown, green, with some red and yellow. Fabrics are plain, cheks and stripes. No padding or quilting. Backing is made of white flannelette sheets. The quilt has been lengthened after it was completed, and the backing sheet has been added to at the same place.
2470 x 1320mm

Quilt of 2025 hexagons stitched together to form diamond patterns. Hand sewn using paper templates. Materials are cottons and plains typical of the thirties period. The backing is blue cotton and the quilt is bound with many rows of coloured bias binding through which is treaded window cord. There is no padding. The quilt is called 'Grandmothers' Flower Garden quilt'.
2439 x 1829mm