Quilt No.1055BB - Brenda Bird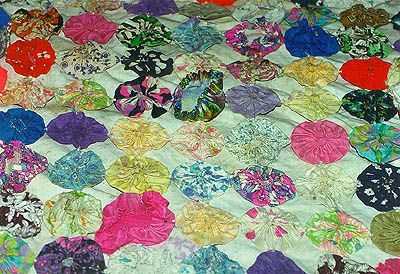 Description:
Suffolk Puff quilt made from a variety of scraps of dress materials including cottons and terylene. It is backed with white cotton sheeting and edged with a frill of white terylene. There is a matching pillow sham.
1740 x 1300 mm.
History:
The quilt was made by Mary Jane Farmer (1894-1996) between 1930 and 1959 in Boddington WA. It was then owned by her daughter and is now owned by her grand-daughter Brenda Bird.
Related Quilts:

Patchwork quilt made of 1 inch hand paper pieced hexagonal patches (English technique), with plain and floral patterned blue fabrics in clusters at regular intervals throughout the taupe coloured patches. Centre of quilt has a cluster or 'flower' of 4 rings of patches, the centre group embroidered in blue satin stitch: 'MW 1938'. Border consists of 3 rows of medium, light and dark blue hexagons. No padding. Backing is of blue cotton sateen.
2185 x 1372mm

Cotton quilt, checks, plains and patterns. Machine construction. Rectangles stitched together in strips and then strips joined. The backing is a cotton print. There is no padding and no quilting.
2420 x 1220

Hand sewn hexagons over paper templates in a pattern known as 'Grandmother's Flower Garden'. Materials are printed dress cottons, patterned and plain, mainly in pinks, blues and browns. The border and backing is grey linen and is machine stitched on. There is no padding. 2060 x 1579 mm.

Quilt is made of wool tailors' samples, each measuring 6 x 3 1/2 inches. The colours are predominantly navy and grey. Most pieces are striped but some more distinctly than others. Both sides are mad eof smaples, one side being mainly grey and the other almost exclusively navy. There doesn't seem to be another layer of material as padding. There is no added decoration. Made on a treadle sewing machine.
1703 x 1423mm

Cotton quilt top in patter, the owner calls 'Tumblers'. Approximately 590 pieces, with one exception, all different patterns and colours. 2181 x 1980

150mm squares of old material scraps, mostly cotton, including some curtain material. There is no padding and the backing is brown lawn.
2540 x 2370mm