Quilt No.1056PJN - Peter and Jan Newman
Description:
Suffolk Puff quilt with puffs mainly in patterned cotton pieces saved from 60 years of household sewing. Puffs are formed into rosettes and the holes are on the top making a decorative feature. It is hand sewn.
2700 x 2400mm.
History:
The quilt was made by Dulcie Alma Tobin at Mount Lawley WA in the early 1970s using scraps of material saved from the 1920s to 1970. Dulcie had the quilt until she died in 1988 and it then passed to her grand-daughter Jan Newman. It is still used and is Jan and Peter Newman's summer quilt.
Story:
"Dulcie Alma Tobin: (born in Northam, 1897), saved all the material 'leftovers' from 60 years of household sewing and when she was in her mid seventies, began to stitch them into this quilt.
She was assisted by family - husband Jack threaded all the needles (80 at a time, stuck in a pincushion to keep her going), sister Beatty and daughter Dulcie helping to cut and iron the patches. All the sewing and arranging was done by Dulcie Tobin, despite rapidly failing eyesight. She was 84 years old when it was completed, and so they were able to use it on their bed for a few years before Jack died (1986) and Dulcie moved to the Braille Nursing Home. She died in 1988, shortly after handing the quilt on to her granddaughter Janice Newman." [Jan Newman]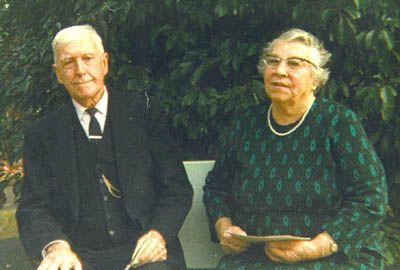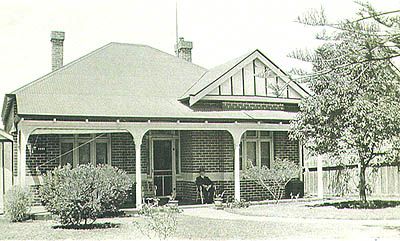 Related Quilts:

4 Pieces of a patchwork quilt which was formerly a whole quilt. It is pieced in cottons in blues reds and browns in many prints. There are whole circles and pieced circles against a plain cream calico background. It is wool lined and is quilted. There are the initials 'A.B.' and '1828' on a central piece. The 4 pieces are various sizes.

Repeat block in wedding ring pattern. All cottons with cream background and mainly pale mauve and green dressmaking prints in wedding rings. Green border and cream calico backing. The padding is cotton. 1800 x 210mm.

Handsewn quilt of hexagon patches in cotton prints in 'Grandmother's Flower Garden' pattern. Each flower consists of double rows of print hexagons around a yellow centre and these are joined by 'paths' in plain green and white cotton. Backing is green cotton and there is a wool padding. There is outline quilting around all green and white hexagons and centre and first row of hexagons in flowers.
1885 x 1750mm

Cotton frame quilt with a diamond in the centre of the frame and a border of straight pieces. The outer border is diamonds. The quilt is hand sewn and hand quilted.
1910 x 1830mm

Cotton quilt, machine sewn and hand quilted. Pattern similar to Double Irish Chain. The background is white and the small squares mainly patterned in pinks, blues, lilacs and greens. The backing is plain white cotton and the padding, which is lumpy, could be some type of cotton.
2057 x 1220mm

Double sided patchwork quilt. Both sides have central frame surrounded by borders. Side 1 has diamond of squares set in a square frame 490mm. Borders are squares and triangles. Side 2 is central frame of squares on point surrounded by plain grey velvet border then marroon border. Materials are cottons, silks, velvet, crepe, rayons in a wide variety of colours and apperned and plain. Machine construction. No quilting. Padding is a cream wool blanket.
1440 x 1420mm