Quilt No.109QWH - Queensland Women's Historical Assoc.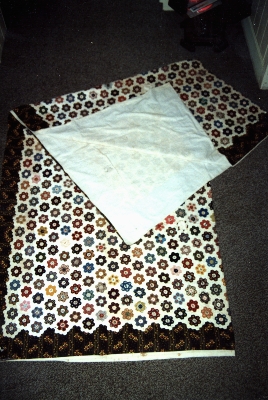 Description:
Cotton hexagons in 'flower' pattern. 6 hexagons around a central one make the flower. Printed and plain fabrics with white between the rows. Patterned border.
2337 x 2135mm
Related Quilts:

Hexagonal log cabin quilt. Hexagons constructed of strips with half hexagon dark and half light. These hexagons are then joined to form diagonal light and dark stripes. Machine and hand sewn. Materials are wools, printed cottons, velvets, corduroys, rayons, flannelettes, brocades, pique and taffetas. The backing is a single piece of brocatelle (rayon brocade). There is probably a thin layer of padding.
1400 x 1200mm
Patchwork top with a centre frame of a mauve cross outlined in black within a square bordered with pink. The rest of the top is rectangles and squares in a wide variety of materials. There is no padding. The backing is brown, possibly curtain material.
1910 x 1480mm

Patchwork quilt made from cotton fabrics in stripes, small prints, and plains. Centre block is pieced red and white triangles within a blue and white striped frame, with a row above and below of triangles in a flying geese pattern. Two rows of triangles in the flying geese pattern are on either side the full length of the quilt. Quilt is bordered with red cotton. Colours are red, white, pink, blue and yellow. Padding is probably a woollen blanket, the backing is linen. Closely quilted all over.
2180 x 1930mm

Machine pieced cotton quilt, in random design of geometric pieces. Materials used are cotton sheeting, dress fabrics, broderie anglaise, and seersucker. There is no padding, and backing is white curtain lining.
1540 x 1150 mm.

Frame quilt or coverlet with centre frame surrounded by floral printed panels. The centre is cotton chintz block printed material in madder colours. It is hand quilted.
2700 x 2700mm

The quilt on longer exists, just the label, but the quilt was squares of flannelette shirt material, velvets and woollen pieces. The backing was calico. The label was sewn to the backing and it reads: 'Red Cross Killarney Manitoba'. It is embroidered in red and is on a white piece of sheeting.