Quilt No.1108JM - Jenny Martin
Description:
Hand pieced frame (medallion) quilt. Small hexagons in centre surrounded by triangles and then rectangles. Fabrics are often end of roll pieces with maker's marks. Small prints in mainly creams and browns. The backing is pieced pyjama fabrics. There is no padding. 2130 x 1670mm
History:
The present owner purchased this quilt in an antique shop in Leominster, UK in 2002. There is no other provenance. It is not used.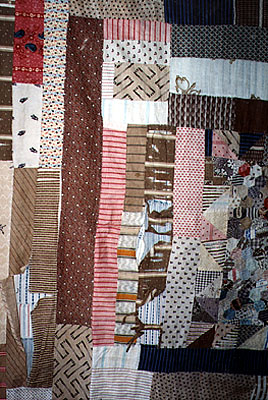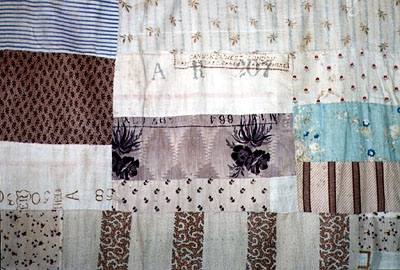 Related Quilts:

Machine pieced crazy patchwork quilt in plain, floral and striped cotton materials. Some pieces are seamed and others are sewn direct on to calico backing. Each piece is outlined in red stranded cotton in herringbone stitch.
2150 x 1770mm

Suffolk Puff quilt with puffs mainly in patterned cotton pieces saved from 60 years of household sewing. Puffs are formed into rosettes and the holes are on the top making a decorative feature. It is hand sewn.
2700 x 2400mm.

Cotton quilt of hexagons in 'Grandmother's Flower Garden' pattern. Hand stitched. Machined to a cotton backing. There is no padding.
2480 x 1950mm

Quilt of pale yellow cotton sateen with a centre star motif with 8 points in pink cotton sateen. A border of pink cotton sateen has pink triangles on each side. The quilt is machine sewn and elaborately hand quilted with designs including fleur-de-lys shape, feathers, vine pattern, clam shells, 8 petalled flower and cable pattern with the main ground cross hatched. The backing is pale yellow cotton sateen.
2235 x 2065mm

Quilt with alternate red and white diamonds in cotton, with wide border of white cotton and a white cotton crochet edging. All diamond patches and edging were joined to white border decorated with feather stitch. White border edged with zig-zag white feather stitch. Centre rectangle of white has 4 red petals edged with white feather stitch and 4 red diamonds each embroidered in white clockwise: '1898', 'R', 'L', 'K'. Diamonds edged with feather stitch. There is no padding and the backing is white cotton.
2420 x 1740mm

Patchwork quilt made from hexagon patches on one side, and squares and rectangles on the reverse. Cottons are used, mostly from dressmaking, in bright and light colours. The hexagons form an indented edge on all sides; on the back the rectangles have been cut at the edge to match the hexagon shapes. Hand sewn, the edge machine sewn.
No padding.
1551 x 1373mm