Quilt No.1115KJ - Kay Jones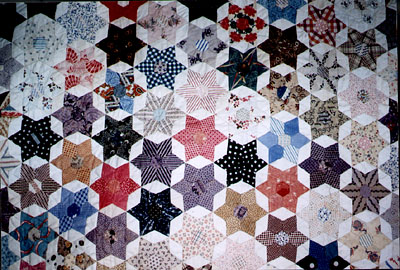 Description:
Quilt top with English piecing in a star in polygon pattern. English and French cotton fabrics in a wide variety of patterns and plains constructed over papers with the tacking still in tact. Papers are mainly part envelopes some with stamps and post dated 1898. 2200 x 1800mm
History:
The quilt top was possibly made by Alice Attridge in Essex. Alice died in 1918. It then passed to Alice's daughter Florrie Clayton and then to Alice's grand-daughter Shirley Gibb and is now owned by Kay Jones the maker's great grand-daughter. It was brought to Australia in 1976.
Story:
"Not much is known about the quilt. Alice died in 1918 when my mother, Florrie Clayton, Alice's daughter was 14. My mother obviously kept the quilt as a memento of her mother and it stayed in a cupboard until we brought it to Australia in 1976 when again it was put in a cupboard in, horror of horrors, a plastic bag. Then I gave it to my daughter Kay Jones and its history came to life." [Shirley and Brian Gibb 20.8.02]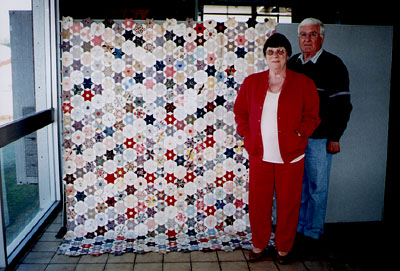 Related Quilts:

Quilt consisting of 30 blocks 360 x 360mm each (5 x 6). Each block consists of squares and rectangles arranged diagonally and edged with triangles. Each block is made from 2 or 3 different cotton materials, different colours but mainly pastels. It has not been quilted but tied with pink wool with 5 ties per block. Machine sewn with a folded and machine stitched edge. Padding appears to be coarse open weave cotton. The backing is printed flannelette.
2210 x 1850mm

Pieced squares, each square with a cross and 4 small squares in red. Crosses are in rows alternating 2 shades of blue and 2 of brown. Cream background. Now unlined but remnant blanket like material in corners. Originally had a cotton frill. Quilt was made from scraps of material used for making children's clothes.

Patchwork quilt made from cotton fabrics in stripes, small prints, and plains. Centre block is pieced red and white triangles within a blue and white striped frame, with a row above and below of triangles in a flying geese pattern. Two rows of triangles in the flying geese pattern are on either side the full length of the quilt. Quilt is bordered with red cotton. Colours are red, white, pink, blue and yellow. Padding is probably a woollen blanket, the backing is linen. Closely quilted all over.
2180 x 1930mm

Folded log cabin, foundation pieced. Machine constructed. Materials are cotton, wool, rayon, flannelette, silk and twill. There is no padding and the backing is cretonne. 2700 x 2100 mm

Patchwork quilt made of hexagons in silks, satins and brocades. Colours are soft, mainly creams and pastels, with some deep pink, yellow, dark grey and bright blue. Quilt is bordered with a wide band of light navy moire or faille. Padded, possibly with a blanket. Backed with cotton twill.
2420 x 1900mm

Pieced hexagons, English paper method. Large hexagons form the centre with a border of smaller hexagons. The fabrics are all cotton in a wide range of colours and patterns. There is no padding. The backing is cotton, large white floral design on dark blue. The hexagons are hand pieced and the edges machined.
2480 x 1420 mm