Quilt No.1115KJ - Kay Jones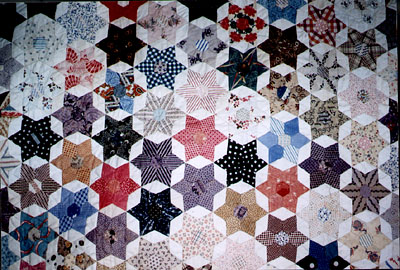 Description:
Quilt top with English piecing in a star in polygon pattern. English and French cotton fabrics in a wide variety of patterns and plains constructed over papers with the tacking still in tact. Papers are mainly part envelopes some with stamps and post dated 1898. 2200 x 1800mm
History:
The quilt top was possibly made by Alice Attridge in Essex. Alice died in 1918. It then passed to Alice's daughter Florrie Clayton and then to Alice's grand-daughter Shirley Gibb and is now owned by Kay Jones the maker's great grand-daughter. It was brought to Australia in 1976.
Story:
"Not much is known about the quilt. Alice died in 1918 when my mother, Florrie Clayton, Alice's daughter was 14. My mother obviously kept the quilt as a memento of her mother and it stayed in a cupboard until we brought it to Australia in 1976 when again it was put in a cupboard in, horror of horrors, a plastic bag. Then I gave it to my daughter Kay Jones and its history came to life." [Shirley and Brian Gibb 20.8.02]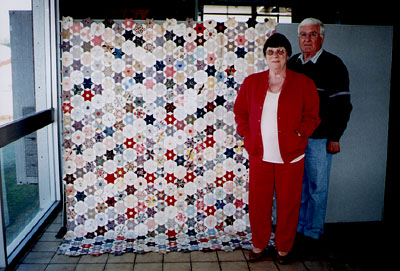 Related Quilts:

Log cabin pattern, each block dark and light strips. 4 blocks joined with dark strips to centre to make larger block. 30 large blocks and 2 sides with half blocks. Each block is machined on to calico. Materials include velvets, corduroys, interlock, taffetas and silver lame. There is a 170mm bottle green border and a single piece of mid brown synthetic for the backing. The padding is probably dacron.
2400 x 2100mm

Child's Patchwork quilt of pieced repeat blocks in red print and white cotton, in 'Bow Tie' pattern. Qult has cotton backing, and wool filling. Some patches are fraying. The quilt has 'Mary Lactitia Thompson' embroidered on it.
1905 x 1296mm

Crazy patchwork cot quilt made from a wide variety of materials, patterned and plain. Some seams are overstitched with feather stitch and herringbone. One of a pair. There is no padding. The backing is taffeta.
1500 x 2000mm

Cotton quilt made in the USA. The pattern is 'Turkey Tracks'. It is machine pieced and very finely hand quilted. The backing is calico and the padding is cotton.
1880 x 1753mm

Crazy patchwork quilt of pieces of plain and patterned silks in bright and pastel colours, each patch edged and decorated with a variety of embroidery stitches, including star, spider, french knot and feather and herringbone variations. 2 patches of early aniline dyed blue silk. Motifs of tennis racquet, horse shoes, fan and some embroidered flowers. The patches are stitched to coarse linen. There is a wide border of red plush velvet turned to the underside. There is no padding. The backing is red polished cotton.
1550 x 1435mm

Patchwork quilt made from hexagons in 'Grandmother's Flower Garden' design, in blue and aqua cottons, polyester and flannelette. Quilt is backed. No padding or quilting.
2380 x 2320mm