Quilt No.1116YG - Yiota Grigorakis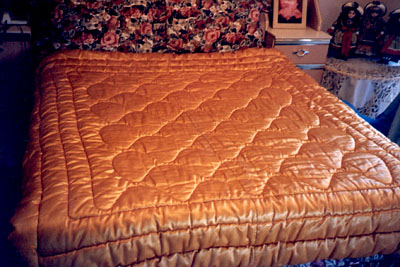 Description:
Wholecloth quilt. Top is gold sateen and the backing is gold cotton. Hand quilted in an overall large shell pattern within a border of three parallel lines spaced at 1000, 800, 700mms respectively. The padding is cotton wadding. 2000 x 1800mm
History:
The quilt was made in the village of Smerna or in nearby Pirgos, on the western side of the Peloponnesus by an unknown maker. It was made for Giorgia Nikolakopoulou as part of her dowry. The quilt is now owned by her daughter Yiota Grigorakis. It is not used.
Story:
"Yiota's Paploma. Yiota's beautiful paploma (quilt) made in 1932, was handed down to her from her mother. It was part of Georgia's prika, the dowry which every Greek girl has when she marries. Georgia's mother, Vasiliki Pantazopoulou would have ordered the paploma to be made by someone in their village of Smerna, or in nearby Pirgos, on the western side of the Peloponnesus, Greece's southern mainland.
Yiota was born in 1952, the third child after Vasiliki and Costa. Her parents, Grigori and Georgia Nikolakopoulou owned fields, horafiaa, and grew their own grapes, sultanas, citrus fruit, cotton and staple olives. But, the post- war decades in Greece were very difficult economically, and many families moved to Athens to try to find work. So, at the age of twelve, Yiota joined various members of her family in Athens, where she worked until migrating to Australia in 1970.
After working in Botany for two years, Yiota married Kyriako Grigorakis who, for forty years, ran his own fitter-and-turner business. They have two daughters, Aristea and Georgia.
Iota speaks with gratitude about the life they have made in Australia. Her house, with its vine covered veranda and palm trees, is a reminder of what she left behind, as is her paploma, which is still in excellent condition."
[Written by Lula Saunders, adapted from interview 15.2.02 for the National Quilt Register.]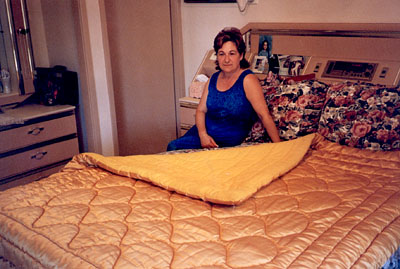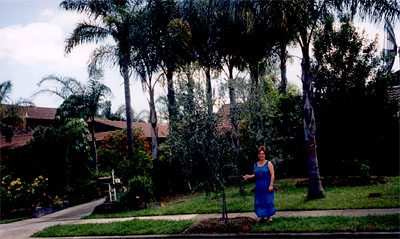 Related Quilts:

Wholecloth pram quilt with a top of pink cotton sateen, and the reverse is a more finely woven, ivory, fabric. All over quilting design as main feature, with stylised hearts, leaves and cross hatching. The padding is cotton batting. 870 x 660 mm.

Hand stitched, cotton, appliquéd, quilt in a flower pattern on a plain background. Colours are shades of green, apricot and browns. This quilt was known as a 'Bride's Quilt'. Padding is thought to be layers of white fabric raised almost like a wadding. The backing is cotton material. 2470 x 2020 mm.

"The coverlet is of cream cheesecloth, highly decorated with applied figures and pieced fabric bands. The appliqué bands follow the edge of the coverlet for some time and then become circles radiating from the centre. The bands form two framed circular areas that carry appliquéd images. A smaller area lower centre of the cloth depicts birds and insects. In the centre of the work is a bordered oval with two aboriginal figures, an angel, kangaroo, emu and kookaburra, with the words 'Advance Australia Fair' embroidered in black thread. The stitching and construction of the coverlet is quite crude." [NGA] The quilt is not padded or lined. 1640 x 1550mm
Wholecloth quilt covered front and back with the least worn parts of old curtains. The padding is a carded wool sheet from Ipswich Woollen Mills placed between layers of cheesecloth.
1800 x 1225mm

Utilitarian quilt. Padding consists of recycled hand knitted jumper pieces (mainly 3 ply crepe and 8 ply) tacked to a layer of cotton material with strong buttonhole twist thread. The top is a piece of cotton fabric. Machine quilted in rows approximately 70mm apart.
1827 x 1423mm

Wholecloth quilt of golden brown cotton satin, the reverse side of pink cotton satin. Central quilting pattern of interlaced curves, within 3 rows of parallel stitching, then a border pattern of an interlaced knot design, the edge finished with 2 rows of parallel quilting. Filling of cotton. 2010 x 1920 mm.
2010 x 1920mm