Quilt No.842AG - Annette Gero,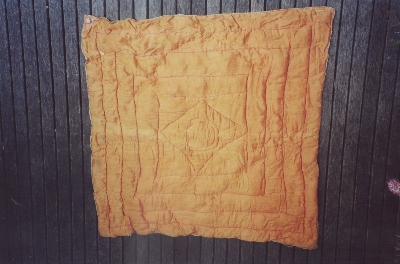 Description:
Wholecloth quilt originally covered with cretonne and recovered with orange satin. Machine quilted. Padding of wool.
1270 x 1160mm
History:
This quilt was made by Annie Whitehead (1868-1953) at Cudgewa, Victoria early this century. It is now in the collection of Annette Gero.
Story:
"Mary Annie Whitehead was born in Lincolnshire UK in 1868 and died in 1953, having married Edwin Simon Whitehead at Wabba Station, near Corryong in 1895. They had 5 children. Her second youngest child, Gladys Mary married Joseph Gibson, whose sisters Daphne, Olive, and Ruby made the waggas [AG cat. Nos 156, 157]. The family had migrated from Benambra, near Omeo in to Thowgla, near Corryong. The main reason for the shift was that the valleys flowing into the Murray were more fertile and the climate a lot milder than the bleak high plains of the Alps. The shift was accomplished by bullock waggon and horses. It must have been a rather hazardous journey, as there were no roads to follow."
[Annette Gero]
Related Quilts:

Wholecloth pram quilt with a top of pink cotton sateen, and the reverse is a more finely woven, ivory, fabric. All over quilting design as main feature, with stylised hearts, leaves and cross hatching. The padding is cotton batting. 870 x 660 mm.

Hand stitched, cotton, appliquéd, quilt in a flower pattern on a plain background. Colours are shades of green, apricot and browns. This quilt was known as a 'Bride's Quilt'. Padding is thought to be layers of white fabric raised almost like a wadding. The backing is cotton material. 2470 x 2020 mm.

Pieced construction, repeat block format, American Blue Grass pattern. Hand stitched and quilted with a machined edge. Mauve check stars, 8 points, surrounded by 16 point stars in yellow floral. One star per block plus green squares and red strips. The background is yellow cotton and so is the backing. There is a dacron type padding.
1980 x 1740mm

Quilt has a centre panel of white velvet roses and green leaves with embroidered spider webs, on red velvet. Two side panels are in crazy patchwork in plain and patterned silks and velvets. All patches are edged with feather, herringbone or blanket stitch. Many patches are embroidered, including 'Minnie', 'Good Luck', birds, flowers, anchor, boat, fish, shell, spider web, crown,, 2 crossed flags, tennis racquets, Australian motifs including wattle. The centre panel has a row of ruched olive green ribbon each side and the whole quilt has a border of dark blue velvet. The padding is cotton wadding and the backing is cream cotton printed with red and pink chrysanthemums and green leaves.
2113 x 1995mm

This double sided quilt has a centre frame with an appliqued circle feather stitched on. This is surrounded by blocks and strips of mainly rectangles. It is hand pieced. The other side is very broad strips of rectangles mainly in florals some the same as other florals in quilts in the collection. The padding is a cotton blanket and some pieced shapes
The circle motif is common to other quilts in the 'Craigmoor' collection.
1650 x 1500mm

Patchwork quilt with alternate squares of green and fawn cotton headcloth. Various Australian wild flowers are embroidered in coloured threads in the green squares. In the fawn squares there is a stylised flower and leaf pattern outlined in embroidery. The border, front and back is green headcloth. The backing is printed cotton with a floral design. There is some padding.
1610 x 1610mm