Quilt No.464JB - June Brown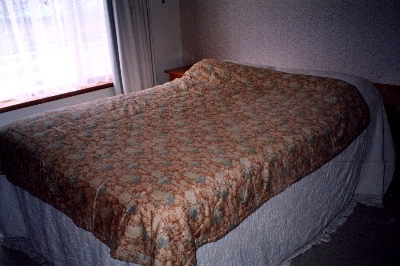 Description:
Reversible wholecloth quilt of floral cotton material with a sateen finish. Machine quilting in rows holds the layers together. Padding appears to be an old blanket, cream wool with grey and pink stripes.
1950 x 1850mm
History:
The maker is unknown but she was a travelling seamstress. The quilt was made for Ellen and Edward McGurk whose property was 'Elenose' at Woosang near Charlton Victoria. It was made about 1919 or 1920. It was then owned by Ellen's daughter, Vera Gregson, who gave it to June Brown in 1998. It is not used and is stored in a trunk in June Brown's home.
Story:
It was not uncommon to have travelling seamstresses in country areas. They would go to a property by arrangement and do any family sewing and the mending. They would stay with the family for a week or so.
Related Quilts:

Wholecloth pram quilt with a top of pink cotton sateen, and the reverse is a more finely woven, ivory, fabric. All over quilting design as main feature, with stylised hearts, leaves and cross hatching. The padding is cotton batting. 870 x 660 mm.

Hand stitched, cotton, appliquéd, quilt in a flower pattern on a plain background. Colours are shades of green, apricot and browns. This quilt was known as a 'Bride's Quilt'. Padding is thought to be layers of white fabric raised almost like a wadding. The backing is cotton material. 2470 x 2020 mm.

Both sides of this wholecloth quilt are made from different floral cottons with a third pattern used to form borders. It is hand stitched and the quilting pattern is squares. The padding is raw cotton.
1740 x 1240mm

Utilitarian cot quilt. The padding is layered reused woollen materials, parts of old blankets, part overcoats. These are stitched together with string and knitting wools The top and backing are printed cotton. There is a frill all around and buttons have been used to anchor the padding layers to the outside cover.
1169 x 915mm

Wholecloth quilt made of deep cherry red satin with backing of sky blue satin. The padding is cotton wadding. It is hand quilted and the pattern is an all over one of four leafed clovers with a border of crescent shapes within straight parallel lines.
2000 x 1700mm

Wholecloth quilt made of deep pink satin with a cotton backing in a similar colour. The padding is cotton. It is hand quilted and the pattern is a central motif of a star inside a circle surrounded by parallel lines forming large cable or knot design. The border is of one zig zag and four parallel lines.
1970 x 1770mm