Quilt No.197BM - Barbara McCabe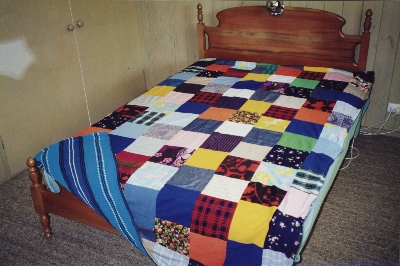 Description:
Patchwork quilt made from squares of cotton fabrics, from curtains, left over from dress making projects, and new fabrics. Colours are bright primaries and some pastels, prints are checks, florals, stripes and plain. Pieces were stitched together without any particular order. No padding or quilting. Backing is a cotton bedspread in turquoise and blue stripes.
2520 x 1600mm
History:
Made by Barbara McCabe while living in Geelong (VIC), 1969, early 1970s. Owned by Barbara McCabe.
Story:
Barbara and her husband David were school teachers, and moved around Victoria, from Echuca to Research to Geelong/Highton.
Barbara made a number of quilts in this style during the 1960s and early 1970s as bedcoverings for the family. When they ended their life as bed coverings, they were/are used as car boot liners, packing around furniture, etc.This quilt was made for her daughter, Mandy, and was still being used in 1985.
Related Quilts:

This is one of two single bed quilts in a pattern the owner calls 'Martha Washington's Flower Garden'. Flowers are in six hexagons in a variety of prints with a plain coloured centre. The background is cream, and the backing is calico. 2500 x 1800 mm.

Hand pieced frame quilt with centre frame of hexagons and radiating borders of cotton and chintz. There is a heart at each of the 4 corners on the second border. It is hand quilted. There is no padding.
1900 x 1900mm

Quilt of machine pieced squares and rectangles using a wide variety of materials in plain colours and patterns. It is one of a pair. There is no padding and the backing is 90cm strips of calico.
2500 x 2130mm

Patchwork quilt made from different sized rectangles, in new materials, including cotton, lightweight velvet, lining silk, crepe, seersucker, and satin. All fabrics are of even weight. Colours are mainly light, with pinks, greens and blues predominating. No padding or backing. Quilt was not finished.
2050 x 1250mm

150mm squares of old material scraps, mostly cotton, including some curtain material. There is no padding and the backing is brown lawn.
2540 x 2370mm

Wholecloth quilt in white cotton voile with alternating designs of Australian wildflowers worked in multi coloured cottons and shadow work. It is backed with yellow voile. There is no padding.
2010 x 1910mm