Quilt No.378MR - Mary and Max Robertson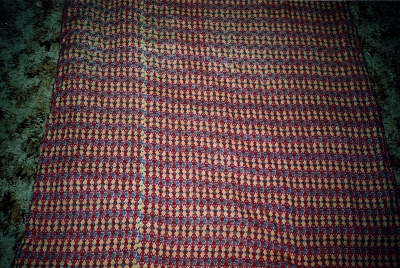 Description:
Traditional Wagga rug made from 3 wheat bags joined along the long side by sewing with bag needle and twine. Machined twill cover was put on later in the 1960s. Originally no padding but now the bags are the padding. One of a pair(identical).
1790 x 1160mm
History:
The original traditional Wagga rug was made by Max Robertson. Later it was covered with the patterned twill material by Mary Robertson. It is not used now but remains in the family, is valued and is stored in Coolamon NSW.
Story:
Max and Mary liked camping with their 3 children and used the Wagga rugs on the camp stretchers in the tent.
Related Quilts:

Wholecloth pram quilt with a top of pink cotton sateen, and the reverse is a more finely woven, ivory, fabric. All over quilting design as main feature, with stylised hearts, leaves and cross hatching. The padding is cotton batting. 870 x 660 mm.

Hand stitched, cotton, appliquéd, quilt in a flower pattern on a plain background. Colours are shades of green, apricot and browns. This quilt was known as a 'Bride's Quilt'. Padding is thought to be layers of white fabric raised almost like a wadding. The backing is cotton material. 2470 x 2020 mm.

Wholecloth cot quilt, reversible, both sides pale pink rayon printed with small bunches of pink roses, blue flowers and green leaves. Outside edge is machine sewn except for opening for filling which is slip stitched. Quilted by hand with large stitches in pink thread along width and length of quilt. The padding is wool.
815 x 570mm

"The Rajah "quilt" is a patchwork and appliquéd bed cover or coverlet. It is in pieced medallion or framed style: a popular design style for quilts in the British Isles in the mid 1800's. There is a central field of white cotton decorated with appliquéd (in broderie perse) chintz birds and floral motifs. This central field is framed by 12 bands or strips of patchwork printed cotton. The quilt is finished at the outer edge by white cotton decorated with appliquéd daisies on three sides and inscription in cross stitch surrounded by floral chintz attached with broderie perse on the fourth side. All fabrics used in the Rajah quilt are cotton with the exception of small amounts of linen and silk threads. The quilt shows evidence of being produced by many hands." [NGA] The quilt is not padded or lined. 3372 x 3250mm

This Adelaide Chronicle wildflower quilt has alternating squares of green and fawn headcloth embroidered with Australian wildflowers on the fawn squares and stylised floral motifs on the green squares. It is bordered and backed with the same green material. It is padded.
2350 x 1530mm

Wholecloth quilt, bright crimson cotton. Hand quilting is in thick cotton with a medallion design in the centre, vases of flowers in each corner, and some cross hatching. Padding is thick flock, possibly compacted fabrics, and backing is yellow cotton. 2250 x 1930 mm.