Quilt No.215WM - Wanda McPherson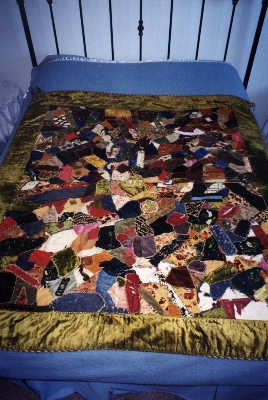 Description:
Patchwork Victorian style crazy quilt with 100s of irregular shaped pieces of velvet, silk, cotton sateen, brocade, ribbons and beading. Many pieces have been embroidered with decorative motifs or names. The centre olive green velvet piece is embroidered 'DC 1898', another 'Mother', two names are just readable - 'Louise' and 'Constance A Kenworth'. Several sprigs of raised wattle and leaves are also embroidered on black velvet. Patchwork has a 13cm wide border of olive green velvet with a twisted cord of 3 greens stitched to the edge. Padding is of white cotton flannelette, backing of mid...
History:
Maker unknown, made c.1898. Given to the owner, Wanda McPherson by a Mrs Rowan, who had been given it by an aunt.
Related Quilts:

Patchwork quilt of hand sewn hexagons in a variety of print and plain cotton fabrics from 1950-1960. Colours are mainly pinks, blues, greens and yellow, with some red, and white. Quilt has a wide border of yellow poplin, which also forms the backing. No padding.
2280 x 1520mm

Snow Ball' cotton quilt made in the USA. Feed bag materials and dress materials. Hand pieced and hand quilted. Calico border and backing.
2058 x 2007mm

Frame quilt in cottons with a centre motif of pieced 8 point star surrounded by borders, 2 from red/white material printed to represent Tumbling Block patchwork. The remaining borders are, one plain, one of pieced squares, one of pieced large triangles with squares in the corner. The outer border is plain. The padding is wool and the backing is cream cotton. It is elaborately quilted.
2400 x 2260mm

The top of this utility quilt is machine pieced rectangles of woollen materials joined in strips. It includes corduroys and velveteens and woollen tartan. The backing is an Indian cotton blanket.
1651 x 1271mm

Hand pieced hexagon quilt or table cover with centre motif of hexagons within hexagons. The remainder of the quilt is mainly hexagon rosettes. The materials are silks and brocades and it is pieced over papers in the English tradition.
1710 x 1600mm

Quilt of scrap hexagons. Hand pieced over papers with some papers still in place. Materials used include seersucker, plisse, chambray and various other textured cottons used in dressmaking. The owner has restored the quilt. The backing is a soft cotton in indigo blue and the padding is flannelettte. "I machine tied the quilt in its restoration using cream cotton at the intersections so that it doesn't impinge on the interesting fabrics and the overall scrap effects." [Marie Pye]
2590 x 2170mm