Quilt No.485CB - Christine Barnes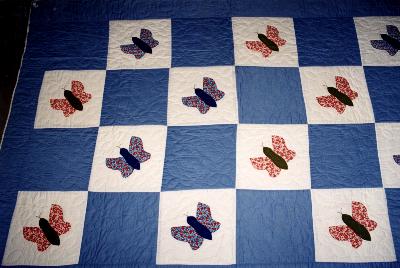 Description:
Cotton quilt . Blue squares with evry alternate square cream with an appliqued butterfly. Blue border. Completely hand quilted. Light weight padding and cotton backing .
2743 x 1829mm
History:
Purchased by the owner from a 'craft shop' in Indiana USA in 1967.
Story:
"Both quilts were bought when living in the USA in the 1960s. Until that period I had not heard about quilts. Many friends showed me their quilts which had been handed down for generations or were made specifically for the individual. The majority had the maker and the date sewn on the quilt, in some cases conspicuously in other cases unconspicuously."
[Christine Barnes 19.4.1999]
Related Quilts:

Quilt top of hexagonal patches in silk and velvet in colours of brown, black, soft green, maroon, light yellow and blue. Some materials self patterned. Blue backing papers can be seen at edges behind some patches.

Cotton frame quilt with a diamond in the centre of the frame and a border of straight pieces. The outer border is diamonds. The quilt is hand sewn and hand quilted.
1910 x 1830mm

Quilt of small silk and rayon rosettes of hexagons in prints and plain materials including velvet, voided velvet, chine, printed silk, brocades, taffeta, satin, crepes. Many of the materials are from Japanese kimono and wrapping silks. It is pieced over papers, one paper has a typed date '1930'. The backing is black silk satin and is turned to the front to form a border.
1695 x 1390mm

Cotton quilt made in the USA. The pattern is 'Nine Patch'. The quilt is machine pieced and hand quilted. The backing is cotton material possibly shirting. The padding is cotton.
1702 x 1702mm

Quilt of scrap hexagons. Hand pieced over papers with some papers still in place. Materials used include seersucker, plisse, chambray and various other textured cottons used in dressmaking. The owner has restored the quilt. The backing is a soft cotton in indigo blue and the padding is flannelettte. "I machine tied the quilt in its restoration using cream cotton at the intersections so that it doesn't impinge on the interesting fabrics and the overall scrap effects." [Marie Pye]
2590 x 2170mm

Crazy patchwork quilt made from silk, brocade and velvet pieces, the seams covered with feather stitching in yellow silk. Fabrics are plain, and patterned with tartans, woven spots, stripes and floral brocade. Colours are rich, mainly red, pink, blue, green and cream. Quilt has a patterned velvet or velour border with urns and flowers in pale olive green and black, edged with a fringe in these colours.
1090 x 1040mm