Quilt No.848AG - Annette Gero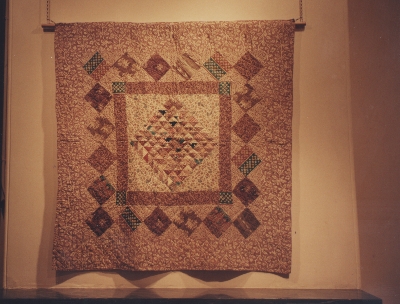 Description:
Cotton frame quilt with a diamond in the centre of the frame and a border of straight pieces. The outer border is diamonds. The quilt is hand sewn and hand quilted.
1910 x 1830mm
History:
The quilt is thought to be c.1850 and came from the estate of H.Massie in Tasmania. It is now in the collection of Annette Gero.
Story:
"This crib quilt was made in Tasmania and reflects the fabrics which were typical of the era and also those imported into Australia in the mid 19th century. Note how it is a central medallion style, which was much more typical of English and Australian 19th century quilts than those made in the USA." [Annette Gero]
Related Quilts:

Patchwork quilt made from squares of woollen fabric scraps from dressmaking. Squares are stitched together in no particular order. Colours are bright, with pink, yellow, green, brown and light blue predominating. Fabric is plain, checks and stripes. No padding or quilting. Backing is a cotton bedspread, striped in pinks and magenta.
2530 x 1640mm

"Hexagons pieced over cardboard hand-sewn together. Each rosette was then machine quilted 1/8th to 1/4 inch from edge of rosette in shape of each rosette. Quilt is mainly cottons with a few rayons. Some checks and stripes are used but mainly florals. Has been machine quilted in rosette shape using green on green fabrics, lemon on lemon, orange on orange and red on red." [Ryder Lundy] There is no padding and the backing is gold curtain fabric extended at the end and one side with matching taffeta. 2220 x 1270 mm.

The body of this quilt is hexagons. This centre piece is surrounded by an applique border of birds and flowers and donkeys on see-saws. The flowers have been elaborately pieced from a great variety of materials. Some of the birds have pres studs for eyes.

Quilt made from blocks in a fan pattern, 5 blocks across by 6 down. Fans are set on a black background, materials are wool and cotton in a mixture of plains and patterns. Edges of fans are decorated with cream herringbone stitch. Machine pieced with hand stitched repairs.Cream cotton backing folded over to make binding, stitched with pink herringbone stitch. Tied regularly with pink thread. The quilt is padded with wool.
2000 x 1720mm

Patchwork Quilt, all cotton including filling. Pattern is "squares and diamonds". Quilt is faded but blue is probably the predominant colour. Hand stitched and hand quilted.
1624 x 1194mm

Patchwork quilt of multi coloured silks and brocades. Crazy patchwork borders, mainly rectangular fabrics pieced together in diagonal patterns, radiating from a central frame embroidered with flowers. Many pieces are extensively embroidered in a great variety of stitches and motifs; butterflies, sunflowers, cats, daffodils, crown, pawn broker's symbol, 'money to lend', 'good night', the initials of family members and 'mater 1890'. The quilt has a deep border of maroon sateen. There is no padding visible but it is possibly a blanket. The backing is green/gold silk with a self stripe with red cotton damask showing underneath, possibly an earlier backing.
2165 x 2165mm