Quilt No.218LU - Lyn Uppill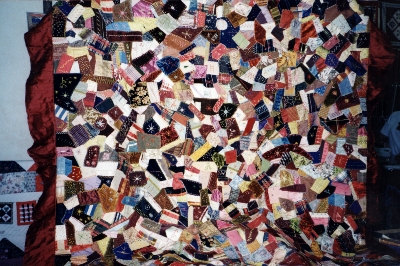 Description:
Patchwork quilt in crazy pattern, with pieces of silks, corded silks and velvets in prints, plaids and plains. Nearly all pieces are edged with embroidery, and many pieces have embroidered names and motifs. There are a variety of embroidery stitches. The backing is of slub cotton in a plaid pattern in yellow, grey, red and white. No padding. Quilt has a gathered edging of dark red organdy and silk. Names and dates embroidered are: Bert, Milly, Toots, Verdi, Ida, and 1893, 1895, 1894.
1550 x 1420mm
History:
Maker and place of making unknown. Made c.1895.
Related Quilts:

Rectangular quilt of print and plain
cottons pieced in squares and rectangles within 2 frames, the inner border or frame of blue/green check material, then 2 rows of squares and rectangles, the outer frame of a grey and red geometric pattern and 2 rows of squares or rectangles. Backing of plain fabric. Machine stitched on a treadle machine.

Frame quilt with central square of fabric around which the borders or frames have been added in strips. The fabrics are mostly floral, a heavy weight similar to damask or curtaining. The colours are mainly beige, brown, green and red. The original backing was a red paisly design. A second backing, of red, brown and yellow leaves on white (possibly dating from 1930s), has been added at a later date. Quilt is bound with brown fabric.
2200 x 2000mm
Dresden plate quilt with pointed pieces set around a white centre. Fabrics are checks, floral patterns and plains of the 1930s. The twenty blocks are sashed with plain mauve fabric which does not meet evenly in some places. The padding is two layers of cotton bedspreads. The backing is open weave rough quality cotton.
1860 x 1550mm.

Crazy patchwork quilt made from silk and cotton fabrics, in patterns and plains, in bright colours. Patches are arranged around a central diamond shaped patch in yellow which is bordered with light blue. All seams are covered with featherstitch and herringbone stitch. Patches were stitched onto a calico backing. A recent calico backing ahs been added and dark blue binding attached to the edge. No padding.
1555 x 910mm

Single bed quilt hand pieced from silk hexagons using the English method. The border, backing and central rosette of hexagons are black. All other hexagons are a mixture of plain colours, stripes and florals. They are randomly placed. It is quilted in a diamond pattern. The padding is a thin cotton woven material.
1550 x 1330mm

Patchwork Quilt consisting of diamond shapes forming a Tumbling Block pattern. All cotton, mainly patterned pieces, with signs of blotting paper templates. Hand sewn. The outer border of patches consists of off-cuts from nurses' uniforms of the times as 2 of the maker's daughters were nurses. It is thought most other squares were probably from material samples from large city stores such as Anthony Horderns. Backing is red cotton in a paisley design.
2030 x 1890mm