Quilt No.31LL - Lurline Lydiard
Description:
Unfinished crazy patchwork quilt. Materials are mainly silk, velvet, woven ribbons, woven brocades. Hand embroidery using many different stitches also machine embroidery eg frog. Some individual patches have names, initials, dates probably relating to family members. There are also place names several of which may refer to Australia. Apart from the embroidery on individual patches there are overlaid a number of floral displays across parts of the quilt. Backing is flannelette with selvedges of blue and pink. 1300 x 1300mm
History:
The quilt has been handed down through the family and was almost certainly made by a family member, possibly Louisa Lydiard. Louisa (born Mackinnon) 1828-1915 married John Lydiard in Melbourne in 1865. Their children were, Charles, Anne b.1858, Mary born England 1859, George, John and Francis. Mary and Anne and Francis were living at 'Maroondah' South Yarra at the time of their deaths in the 1940s. The quilt then passed to Mrs. Lurline Lydiard.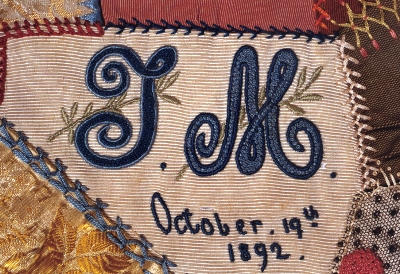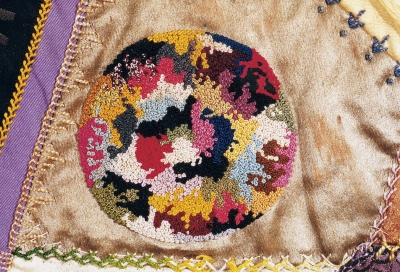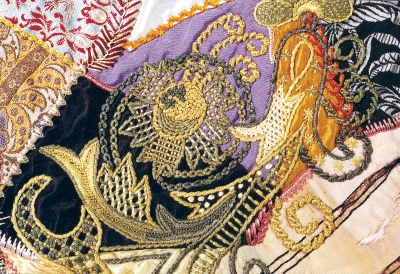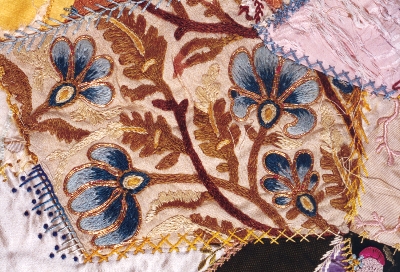 Related Quilts:

Patchwork quilt made from hexagon patches in silks and rayons, in pinks, blues, red, yellow mainly, with pastels. No padding. Bordered and backed with green satin.
1829 x 1372mm

Patchwork quilt made of approx. 730 Suffolk Puffs, using mainly cotton materials in florals and plains. Each puff is 45mm diameter. The quilt centre has a square of 16 pink puffs outlined with a single row of blue puffs. Each corner of the quilt has a square of 9 puffs in a single colour. No padding. Quilt is edged and backed with a red and white tartan cotton.

Red and white cross stitch quilt. Central white panel with red cross stitch embroidery featuring flowers and leaves. Red panels as borders with white embroidery, also flowers and leaves. Machine pieced. Hand quilted in an espalier pattern. There is a fine padding and the backing is homespun. 2200 x 1970mm
Dresden plate quilt with pointed pieces set around a white centre. Fabrics are checks, floral patterns and plains of the 1930s. The twenty blocks are sashed with plain mauve fabric which does not meet evenly in some places. The padding is two layers of cotton bedspreads. The backing is open weave rough quality cotton.
1860 x 1550mm.

Patchwork quilt. All cotton with cotton filling. Entirely made of hexagons, patterned and plain. 6 hexagons surround a central one. Colours, red, blue, yellow and white. Hnad stitched and hand quilted.
2108 x 1702mm

Patchwork quilt made from squares of cotton fabrics, from curtains, left over from dress making projects, and new fabrics. Colours are bright primaries and some pastels, prints are checks, florals, stripes and plain. Pieces were stitched together without any particular order. No padding or quilting. Backing is a cotton bedspread in turquoise and blue stripes.
2520 x 1600mm