Quilt No.31LL - Lurline Lydiard
Description:
Unfinished crazy patchwork quilt. Materials are mainly silk, velvet, woven ribbons, woven brocades. Hand embroidery using many different stitches also machine embroidery eg frog. Some individual patches have names, initials, dates probably relating to family members. There are also place names several of which may refer to Australia. Apart from the embroidery on individual patches there are overlaid a number of floral displays across parts of the quilt. Backing is flannelette with selvedges of blue and pink. 1300 x 1300mm
History:
The quilt has been handed down through the family and was almost certainly made by a family member, possibly Louisa Lydiard. Louisa (born Mackinnon) 1828-1915 married John Lydiard in Melbourne in 1865. Their children were, Charles, Anne b.1858, Mary born England 1859, George, John and Francis. Mary and Anne and Francis were living at 'Maroondah' South Yarra at the time of their deaths in the 1940s. The quilt then passed to Mrs. Lurline Lydiard.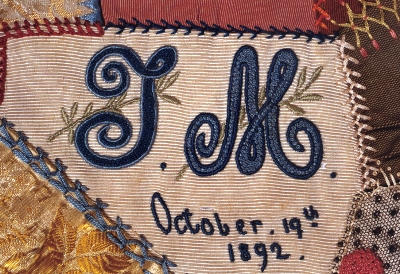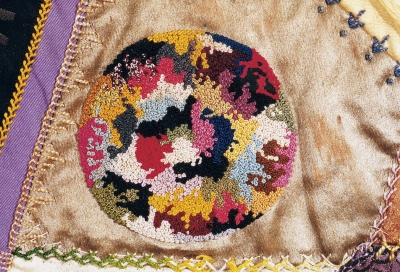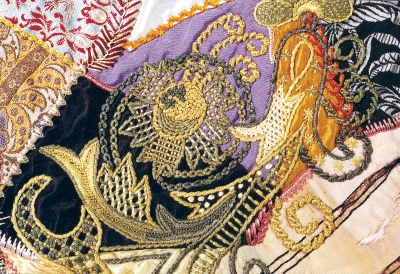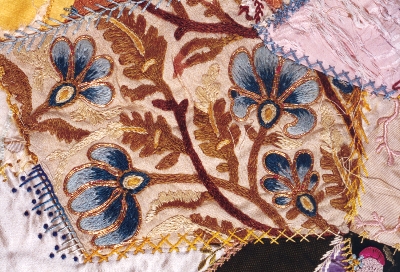 Related Quilts:

Pieced repeat block, in what the owner calls 'Our Village Green' pattern. Wide variety of patterned and plain materials. Finely quilted. Padding is cotton and the backing is white calico. 2180 x 1890 mm.

Wholecloth quilt made from turquoise and red plaid brushed cotton, with a filling of a marcella bedspread with cut up pieces of knitted and crocheted garments stitched on top by hand and machine. Garment pieces are pink, red, yellow, black and pastels. Sleeves, collar and pockets can be clearly seen. Backing is an old blanket.

Small patchwork piece possibly made from salesman's samples. There is no opening in the back so it is not a cushion cover. There is no padding. The backing is green polished cotton. There is a 40mm fringe around the edge.
520 x 520mm

Grandmother's Flower Garden, also known as French Bouquet. The quilt comprises 181 flowers. No padding is used. Each flower has seven hexagonal patches, cut from a metal template pattern. Floral and plain silk materials are used and mounted on pale blue moire taffeta.
3050 x 2031mm

This double sided quilt has a centre frame with an appliqued circle feather stitched on. This is surrounded by blocks and strips of mainly rectangles. It is hand pieced. The other side is very broad strips of rectangles mainly in florals some the same as other florals in quilts in the collection. The padding is a cotton blanket and some pieced shapes
The circle motif is common to other quilts in the 'Craigmoor' collection.
1650 x 1500mm

Double sided machine sewn patchwork quilt made from clothing scraps, wool blends, corduroy, velvets. Patterns include checks and tartans and there are many plain colours. Shapes are mainly rectangles and squares.
1524 x 1372mm