Quilt No.21KA - Kathy Allam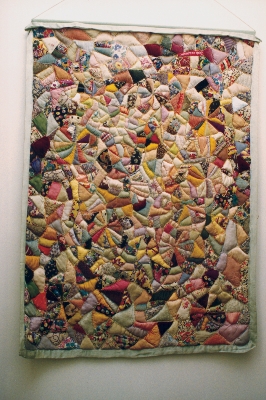 Description:
"A crazy quilt, but even more crazy because each piece of fabric is stuffed with cotton wool. "[Kathy Allam] The quilt has cotton backing, and the seams are embroidered with a decorative feather stitch. Fabrics are plains and prints, most of the prints are florals. The main colours are yellows, blues, pinks, soft greens and dark browns and black, with a light blue/green binding and edge.
History:
The quilt was made and owned by Mrs Pritchard, and is now owned by her grand-daughter, Kathy Allam [WA]. The quilt is now a wall-hanging.
Story:
"The fabrics were collected by my mother and auntie who asked for samples of fabric for their mother. Fabric was scarce and expensive due to the Depression, so each little slither was treasured. Satins, silks, velveteens. Each piece was tacked in place but stuffed before completely tacked and then the decorative stitching was completed."
"My grandmother is now 97 and has been working on a similar quilt over the years, but in this quilt she has been including fabrics that have special meaning to us - the fabric my husband bought for me in the US (before he was my husband)."
[Kathy Allam 22.4.98]
Related Quilts:

Hexagonal piece of patchwork made up of 9 rows of rosettes of hexagons in a wide variety of colours and patterns mainly in silks and velvets. It is incomplete. Backing papers are still in the outside rows and also basting threads. Hexagons are joined by fine whip stitching. It is unlined.
1370 x 1220mm

Machine sewn quilt made from 125mm squares of scraps left over from dressmaking, joined in strips and then the strips joined. There is a border of fawn cotton and the backing is the same material. The padding is an old blanket and the border is padded with sheep's wool.
1400 x 925mm

Suffolk Puff quilt made from a variety of scraps of dress materials including cottons and terylene. It is backed with white cotton sheeting and edged with a frill of white terylene. There is a matching pillow sham.
1740 x 1300 mm.

" This well worn quilt is of pieced diamonds set into squares (221 make up the quilt). Thick woollen fabric has been used for the pieces. These are with plain dyed fabrics or tartans and checks. All work on the quilt is hand sewn. The quilt was lined with a fine blue cotton." [NGA] The quilt is not padded. 1835 x 1400mm

"The quilt consists of 12 blocks of crazy patchwork with an embroidered border. The quilt is made of 167 different fabrics; most of these are silk. These velvets, printed silks and satins are beautifully embroidered with flowers, household items and Kate Greenway images of children at play. Many of the motifs have a strong influence from the Aesthetic Movement. The edge of the quilt carries a border in maroon silk decorated with tendrils and daisies in very fine embroidery.
The patches are joined with hand sewing and embroidery, however the 12 panels are joined with machine stitching (chainstitch machine stitching). The blue silk lining was hand sewn into position with silk thread." [NGA]
"The quilt does consist of three layers but the central layer is not padding. The crazy patch pieces were sewn together and this was lined with white cotton fabric prior to the embroidery at the edges of the 12 panels being placed. This in turn was lined with a fine blue silk." [NGA] 1810 x 1460 mm

Pieced quilt featuring log cabin and tumbling block patterns. It is handsewn and has some appliqued flowers.Materials are mainly velvet with a small amount of cotton. There is no padding and the backing is cotton flannelette.
1525 x 1220mm