Quilt No.227SM - Shirley Maywald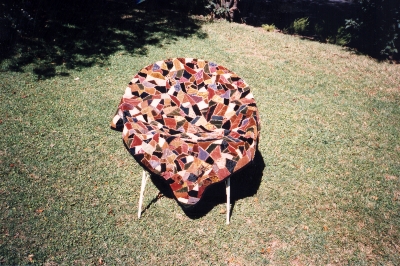 Description:
Patchwork crazy quilt in velvets and silks, no pieces over 4" long. Colours are black, maroon, pinks, blues and pastels, and all seams embroidered with coloured silks in herringbone stitch. Backing is green, there is no padding. Quilt is bound with black velvet 1/2" wide. A patch near the centre is embroidered: '1909' and '1948'.
940 x 915mm
History:
Made by Mrs Erna Shrapel's mother between 1908 and 1948, possibly around Angaston, Barossa Valley (SA). Owned by Shirley Maywald.
Related Quilts:

Cotton patchwork quilt in an all over pattern of diamonds in a wide variety of patterned and plain materials. Many seams are oversewn in feather stitch which goes through to the backing of calico.
1625 x 925mm

Double sided square quilt. One side is a crocheted rug. The centre of this is 4 triangles joined and from this coloured bands in crochet radiate out to the border. The other side is randomly pieced scraps of mainly woollen material in checks, plains and tartans. Machine construction.
1600 x 1600mm

One of a pair of patchwork quilts machine sewn from squares of cottons and silks in pinks, aquas and blues in plain and print materials. Both quilts are similar. The backing is white cotton. There is no padding.
2200 x 1500mm

Quilt of scrap hexagons. Hand pieced over papers with some papers still in place. Materials used include seersucker, plisse, chambray and various other textured cottons used in dressmaking. The owner has restored the quilt. The backing is a soft cotton in indigo blue and the padding is flannelettte. "I machine tied the quilt in its restoration using cream cotton at the intersections so that it doesn't impinge on the interesting fabrics and the overall scrap effects." [Marie Pye]
2590 x 2170mm

Double sided silk quilt. One side is paisley designs and the reverse plain silk . Machine pieced. There is a thin padding possibly sheeting.
2694 x 2287mm

Patchwork quilt made from hexagons in 'Grandmother's Flower Garden' design, in blue and aqua cottons, polyester and flannelette. Quilt is backed. No padding or quilting.
2380 x 2320mm