Quilt No.236IB - Ida Blenkiron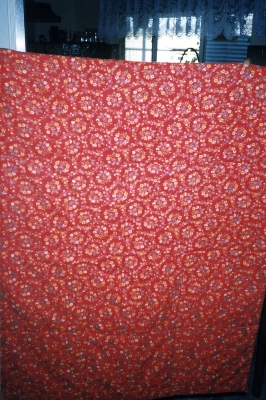 Description:
Wholecloth quilt with back and front of red, blue and yellow cotton floral print and padding made from jumpers, wool skirts, etc. Machine quilted.
1050 x 840mm
History:
Made by the owner, Ida Blenkiron, in the 1950s in South Australia, and recovered in the late 1960s as the original cover fabric had worn.
Related Quilts:

Wholecloth pram quilt with a top of pink cotton sateen, and the reverse is a more finely woven, ivory, fabric. All over quilting design as main feature, with stylised hearts, leaves and cross hatching. The padding is cotton batting. 870 x 660 mm.

Hand stitched, cotton, appliquéd, quilt in a flower pattern on a plain background. Colours are shades of green, apricot and browns. This quilt was known as a 'Bride's Quilt'. Padding is thought to be layers of white fabric raised almost like a wadding. The backing is cotton material. 2470 x 2020 mm.

Wholecloth quilt of fine cream homespun embroidered with stranded cotton in 2 shades, brown and buff, with gold highlights. It is a cross stitch floral pattern which was stamped on the homespun. The self coloured quilting is mostly in straight lines with a fern design border. The quilt has a bound edge.
2460 x 1670mm

Traditional Wagga rug made from 3 wheat bags joined along the long side by sewing with bag needle and twine. Machined twill cover was put on later in the 1960s. Originally no padding but now the bags are the padding. One of a pair(identical).
1790 x 1160mm

Quilt made of white cotton net, embroidered or 'voided', with an all-over pattern of parrots perched on branches and flying around a flowering tree. There is a tufted effect on the edges of figures. The top has a centre panel with 2 side panels attached to match the pattern. Quilt is lined with white cotton, and edged with a white cotton fringe. There are 2 matching pillowshams. Handsewn.
11920 x 1830mm

Wholecloth quilt made of deep pink satin with a cotton backing in a similar colour. The padding is cotton. It is hand quilted and the pattern is a central motif of a star inside a circle surrounded by parallel lines forming large cable or knot design. The border is of one zig zag and four parallel lines.
1970 x 1770mm